Post-Covid Office
A FOCUS ON THE INDIVIDUAL EXPERIENCE OF THE WORKPLACE
---
Client : Global Consulting Firm
---
Location : Tokyo, Japan
---
Program : Office
---
Area : 3000 sqm

---
Scope : Design

---
Year : 2020~2021
---
Status : Completed
---
Photos : Vincent Hecht
---
[Please click on the picture to enlarge]
---
We continued to design corporate workplaces during the initial onset of Covid, but for most of those projects the management premise was that a vaccine would return business quickly back to a Pre-Covid workplace. For those offices the design included temporary solutions such as physical distancing and other protocols that could be changed once the world would
return to normal
.
This particular project also started pre-Covid and together with the client we developed
an alternative, holistic approach
towards the office. This resulted in a space that is more than just a furniture solution but an integrated conceptual space in which IT, acoustics and lighting design are all integrated to form a space in which users can have
a choice of how they want to work
. The focus of this project is on the focus of the individual experience of space.
This project comes to two conclusions:
The Covid curfew restrictions has shown that most office work is already performed mainly in a digital environment (computer, phone etc…) and is not limited to a specific physical location, work can be done anywhere
The role of the office is in its communal, social function; a space to bring people together, to express what a company stands for. Thus the importance of design as an expression of an authentic message of how and where a company wants to let their employees work.
---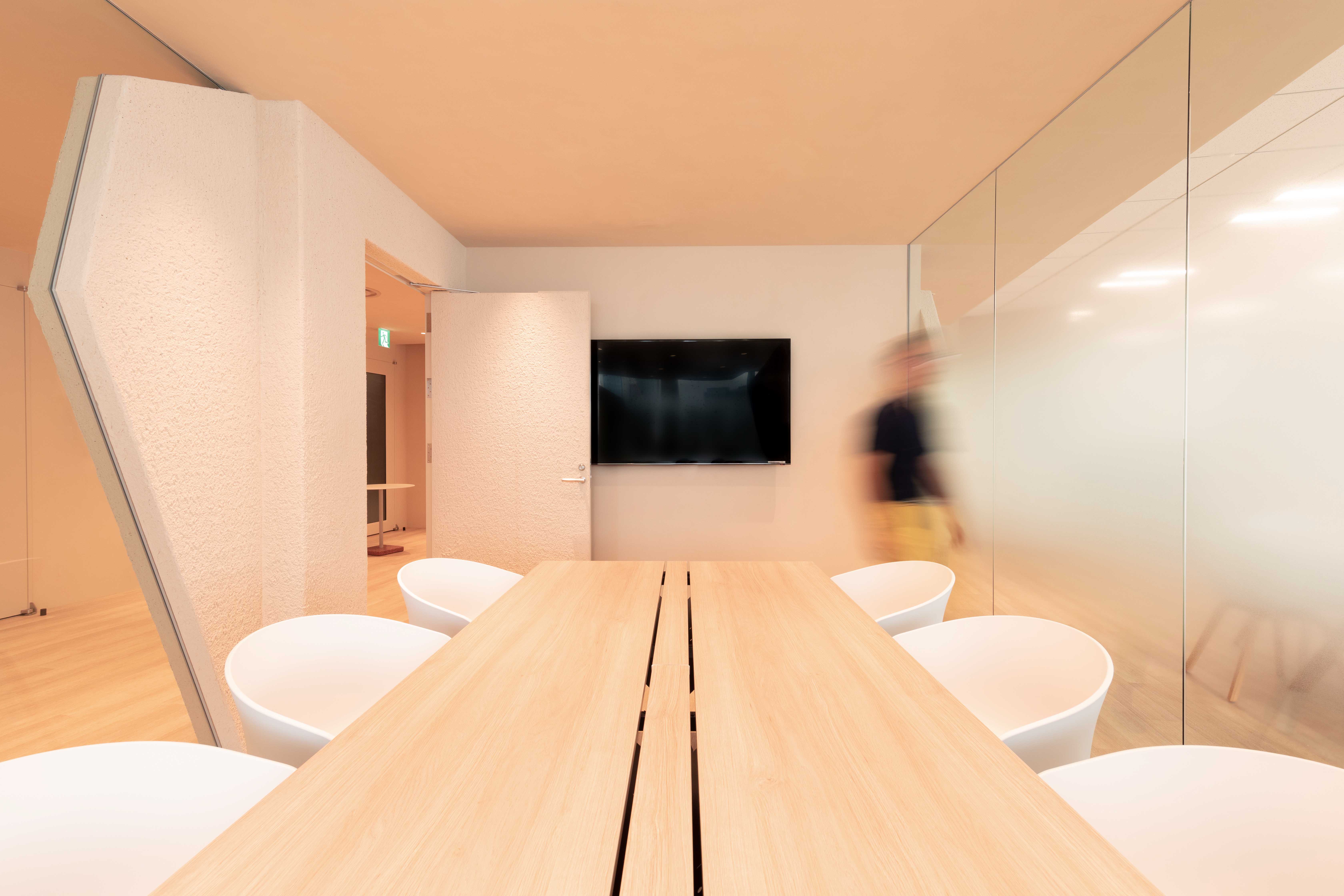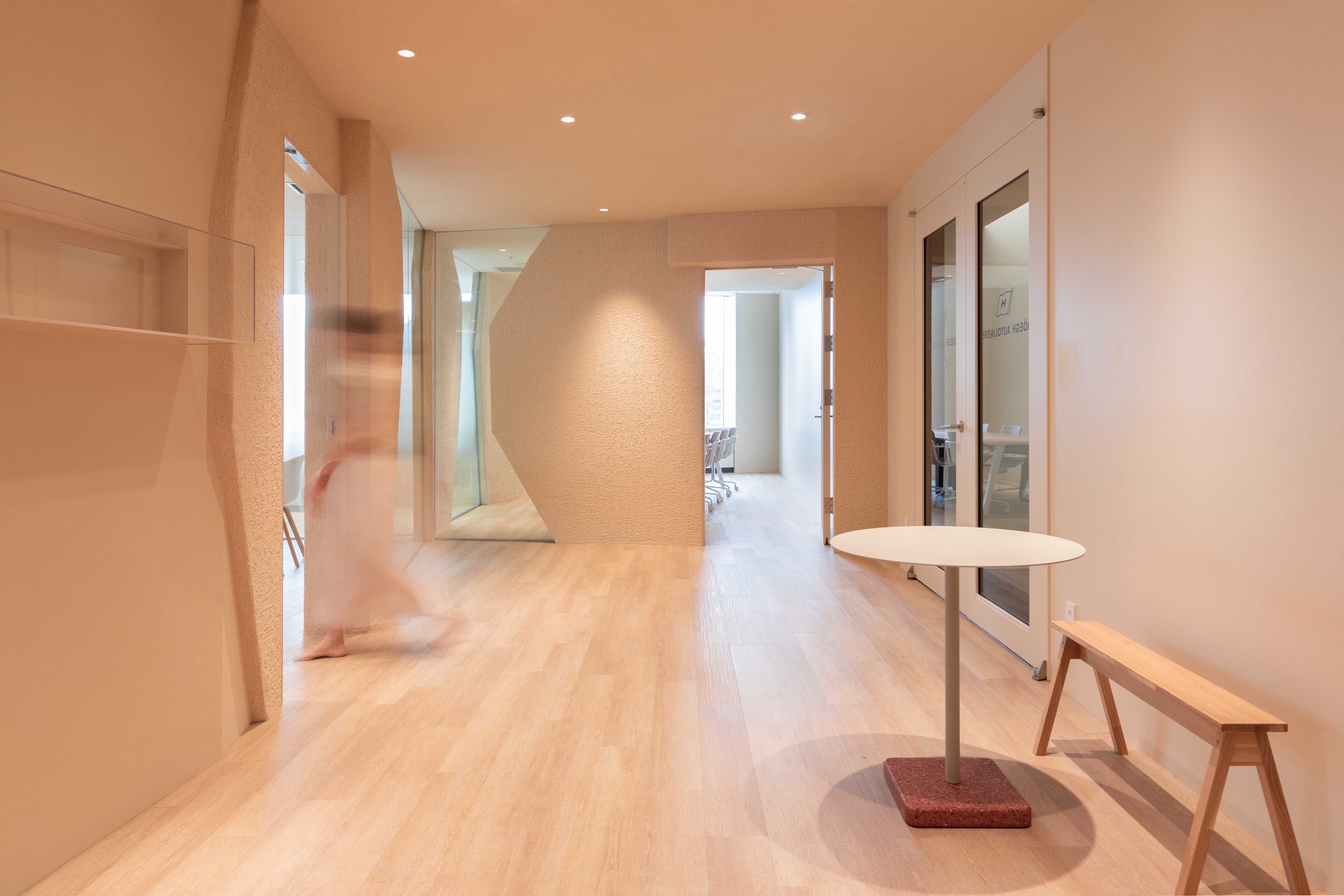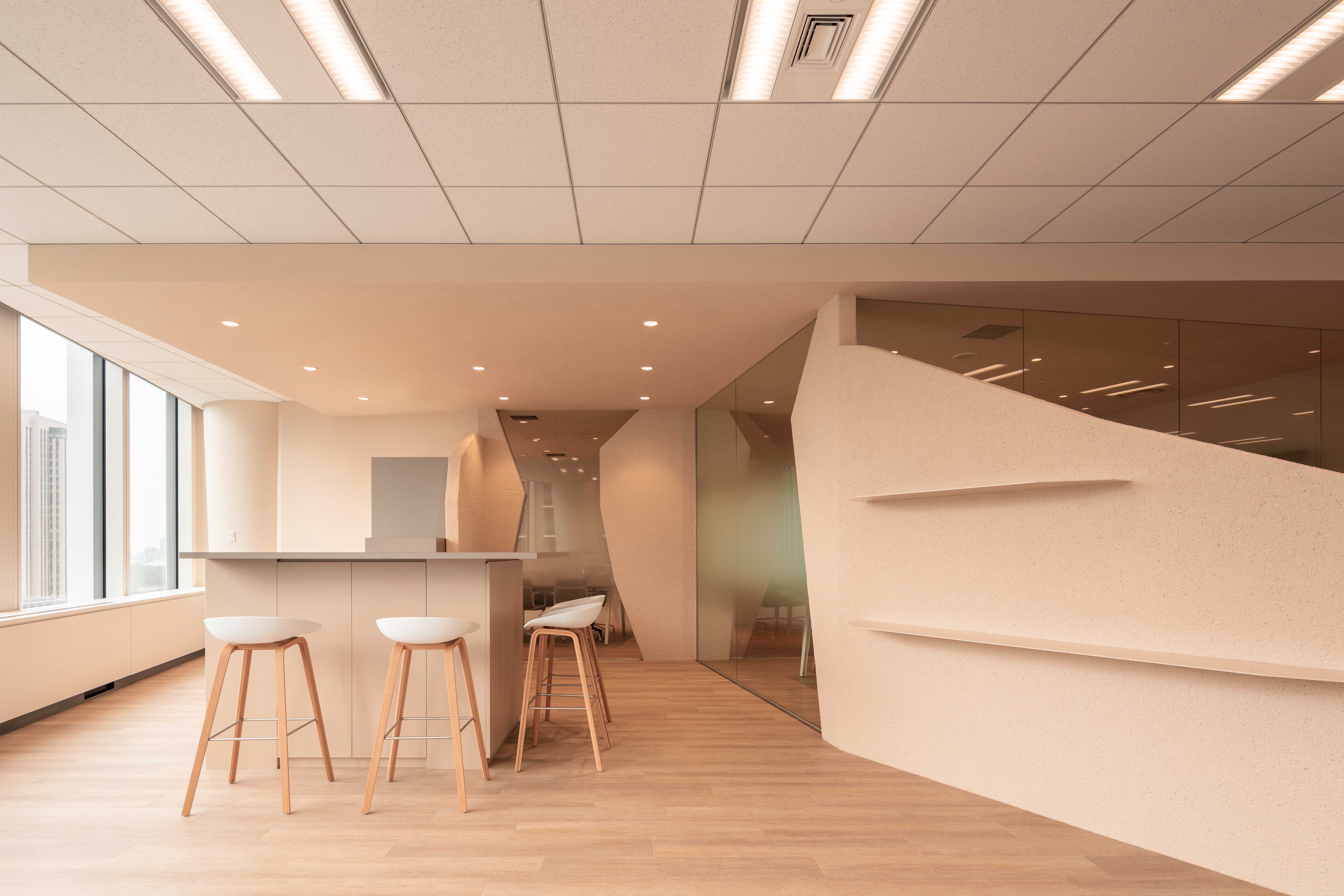 ---
Client : Hoegh Autoliners
---
Location : Tokyo, Japan
---
Program : Post-covid Office
---
Area : 265m2

---
Scope : Design - Project Management

---
Year : 2021
---
Status : Built

---
Photos : Vincent Hecht
---
[Please click on the picture to enlarge]
---
This shipping company had seen our work and wanted something different for their offices as well. Their brief asked for a Futuristic Office Space, that reflected their Norwegian Maritime Heritage and that would still look fresh after 10 years.

We translated these requests around 4 conceptual key words which would form the basis for the design.
1. Bright:
We suggested to use a very light colour palette. Throughout the whole space we installed a light wood oak floor. We used a light cream coloured, thick, rough and a smooth stucco finish for wall surfaces. Especially the rough stucco diffuses the daylight beautifully.

2. Views:
When we entered the new space for the first time we felt that the views of this relatively small office gave so much character to the space that we wanted to make sure that even after we constructed the programmatic needs such as meeting rooms, storage room, the space would not lose its openness that we felt so strongly during our initial visit.

3. No Walls:
Thus we tried to keep the space as open as possible. To keep this sense of openness we tried to avoid, wherever possible to have any fully enclosed room. Instead we placed angled objects made of rough stucco in the space and filled these in with glass. These walls then spatially project that sheltering feeling of enclosure off it without really creating a room. By cutting parts of these walls off at the bottom or at their top we played with the left over spaces in between these open enclosures. By moving through the space, even very slightly the negative space between these walls would change depending on the angle viewed of this in-between open space. As such one never gets the feeling of being inside a room, as depending on the location within this space there are always views taking the viewer beyond that room.

4. Sail & Rock:
These enclosures form shapes that would maybe remind the users and visitors of rocks or sails on a shimmering sea. At least that is the impression we have tried to convey with those shapes.

Conculsion:
We believe that these four elements created an office that programmatically full-filled the needs of a hybrid post-covid office in which staff could come to the office to be inspired. While in the office the movement through the space would be part of the inspiration that we aimed to transmit: that as there are no real enclosed space but that the various viewpoints, and the diveristy of these viewpoints together with the changing daylight throughout the day would make the space feel alive, ever changing.




---
WoC-TOKYO
HEAD OFFICE + BREAKOUT MULTIPURPOSE SPACE
[Please click on the picture to enlarge]
Client : Confidential
---
Location : Tokyo
---
Program : Office, Meeting Rooms, Breakout Space, Private Offices
---
Area : 765 m2

---
Year : 2020
---
Status : Completed
---
Photos : Vincent Hecht
---
This is a corporate interior project in a space that is not a typical office space. In a former gym the owner had inserted a second floor which was subdivided into long and narrow spaces. As the client took the whole floor we removed all these dividing walls and created one large connected, open space.
The design intend was to create a space that went beyond the purely functional requirements. Instead we focussed on the creation of a narrative in which the users of the space, the employees as well as visitors, would get a unique experience of this space. Removing the dividing walls allowed daylight to flow more uniform through the space. The larger space also provided for a wider variety of viewpoints. To keep this feeling of openness we went for a very clean look with light wood accents. We also want to bring in tactile materials to give us a textural, distinctive surface. Most of the walls are finished in a hardwearing, light beige stucco with either a smooth or a more rough finish.
We placed wood cement boards diagonal on walls as a dynamic, decorative element which also ensured a comfortable level of acoustics throughout the space. In the work area we installed a concrete colour vinyl tile on the floor, for the circulation and some enclosed rooms we used a light washed oak, enclosed rooms are carpeted.
At the entrance steps down lead to two glazed client meeting rooms, from there visitors turn right towards a larger meeting room that can accommodate up to twelve people. The glass wall of this meeting room can be opened up and the space in front can be used for presentations, seminars or town hall meetings. In the same space around the corner, up three steps, we placed a pantry kitchen under a louvered ceiling. Across this pantry is a nook where the walls, ceiling and floor are all in finished in a dark blue colour. Black and dark blue furniture is placed on a thick blue carpet, creating a soft and comfortable atmosphere where staff can have a coffee, have a quiet chat or do some work.
You can watch a
One Minute Architecture video
with a more detailed description of the project
here
.
これは、典型的なオフィススペースではない空間における、企業インテリアリノベーションプロジェクトです。かつてはスポーツジムであった天井の高い空間に、ビルオーナーが2階を増床し、その2階は細長い小さいスペースに分割され使用されていました。施主がこの2階のスペース全体をリースすることとなったため、私たちはスペースを分割していた仕切り壁をすべて取り除き、1つの大きなオープンスペースとして設計することにしました。
設計の意図は、単に機能的なだけでないスペースを設計することでした。代わりに、空間を使用する社員、そしてビジターが、この空間を通してユニークな体験を得ることができるような物語を創ることに焦点を当てました。仕切り壁を取り除くことで、外光が空間をより均一的に流れるようになりました。より広いスペースはまた、より幅広い視覚的効果を持たらしました。この開放感を保つために、明るい木目調をアクセントとして用い、とてもすっきりとした印象に 仕上げました。また、手触りの違う素材を取り入れて、質感のある独特の表面を作ることにしました。ほとんどの壁は、滑らかな、または粗い仕上げの、耐久性のあるライトベージュの左官で仕上げられています。
ダイナミックな装飾的な要素として、壁に斜めに木毛セメント板を施し、またこの木毛セメント板は空間の快適な遮音性をもたらしています。執務エリアでは、床にコンクリート調のビニールタイルを設置し、廊下などの動線や、一部の部屋は、明るい色のオーク材を使用し、会議室部屋等はカーペットを施しました。
エントランスの階段を下りると、ガラス張りのクライアント用会議室が2部屋あり、その右手には、最大12人を収容できる大きな会議室があります。この大会議室のガラス間仕切りは開放可能で、大会議室の正面のスペースはプレゼンテーション、セミナー、タウンホールミーティングに使用できます。大会議室から3段のステップを上がった角にはルーバー付きの天井の下にパントリーキッチンを配置しました。このパントリーの向かいには、壁、天井、床がすべてダークブルーに仕上げられた一角があります。ブラックとダークブルーの家具が厚いブルーカーペットの上に設置され、スタッフがコーヒーを飲んだり、静かにチャットしたり、仕事をしたりできる、快適な雰囲気を作り出しています。
プロジェクトの詳細は、You Tubeチャンネル"OneMinuteArchitecture"
で動画を見ることができます。
---
GUANGMING
COMMUNITY CENTER + CAFETERIA + CONFERENCE + OFFICE + DINING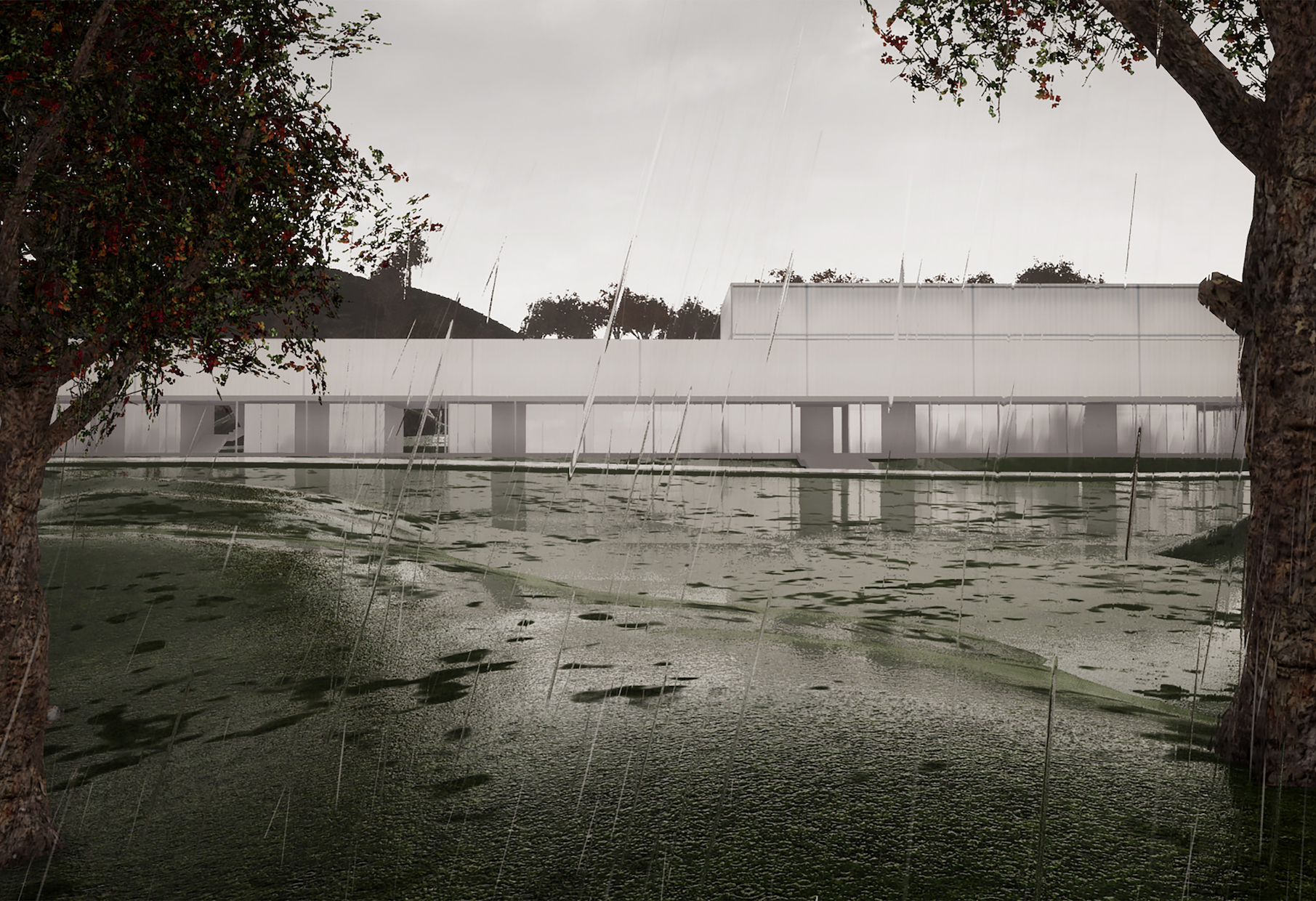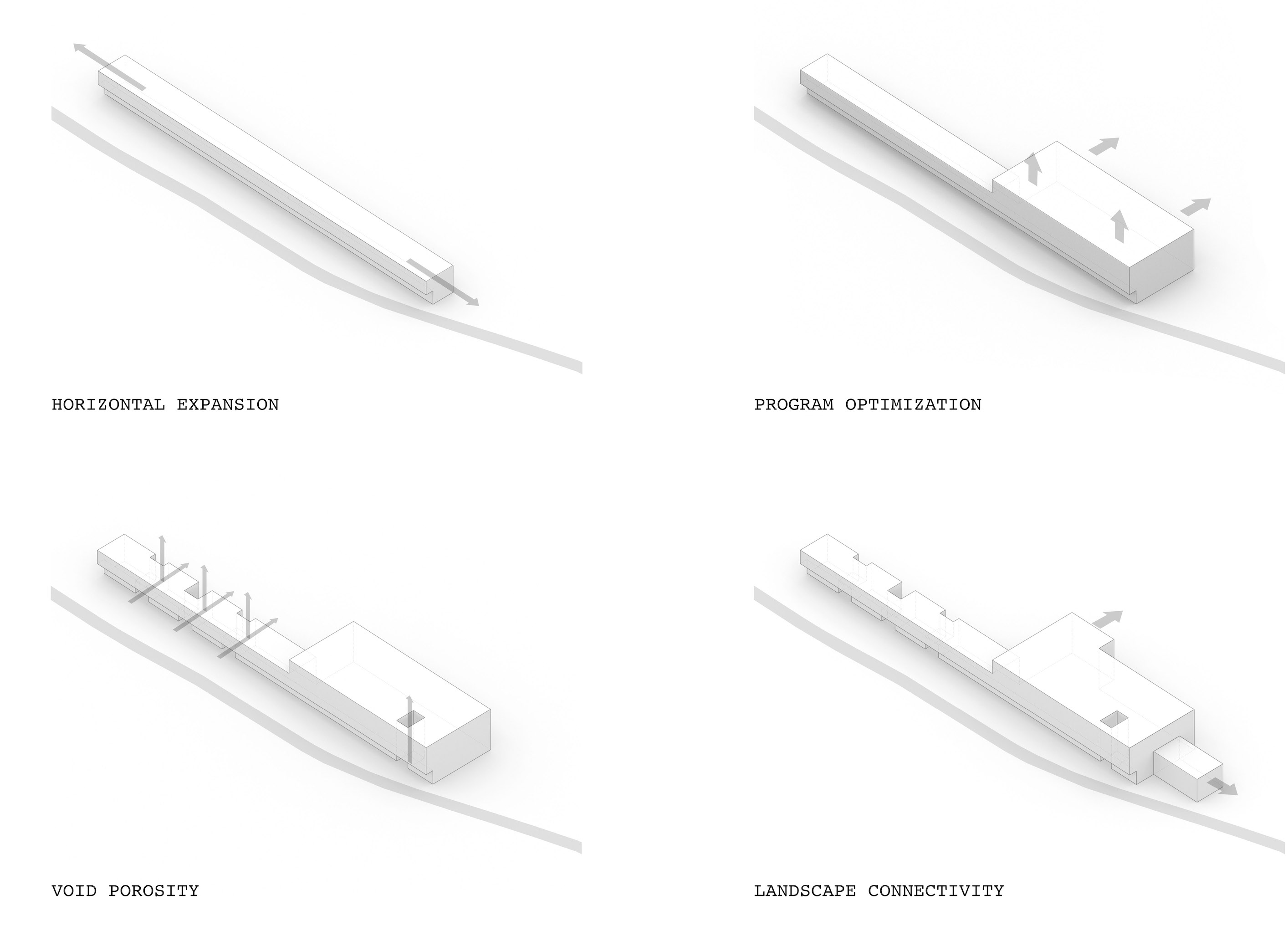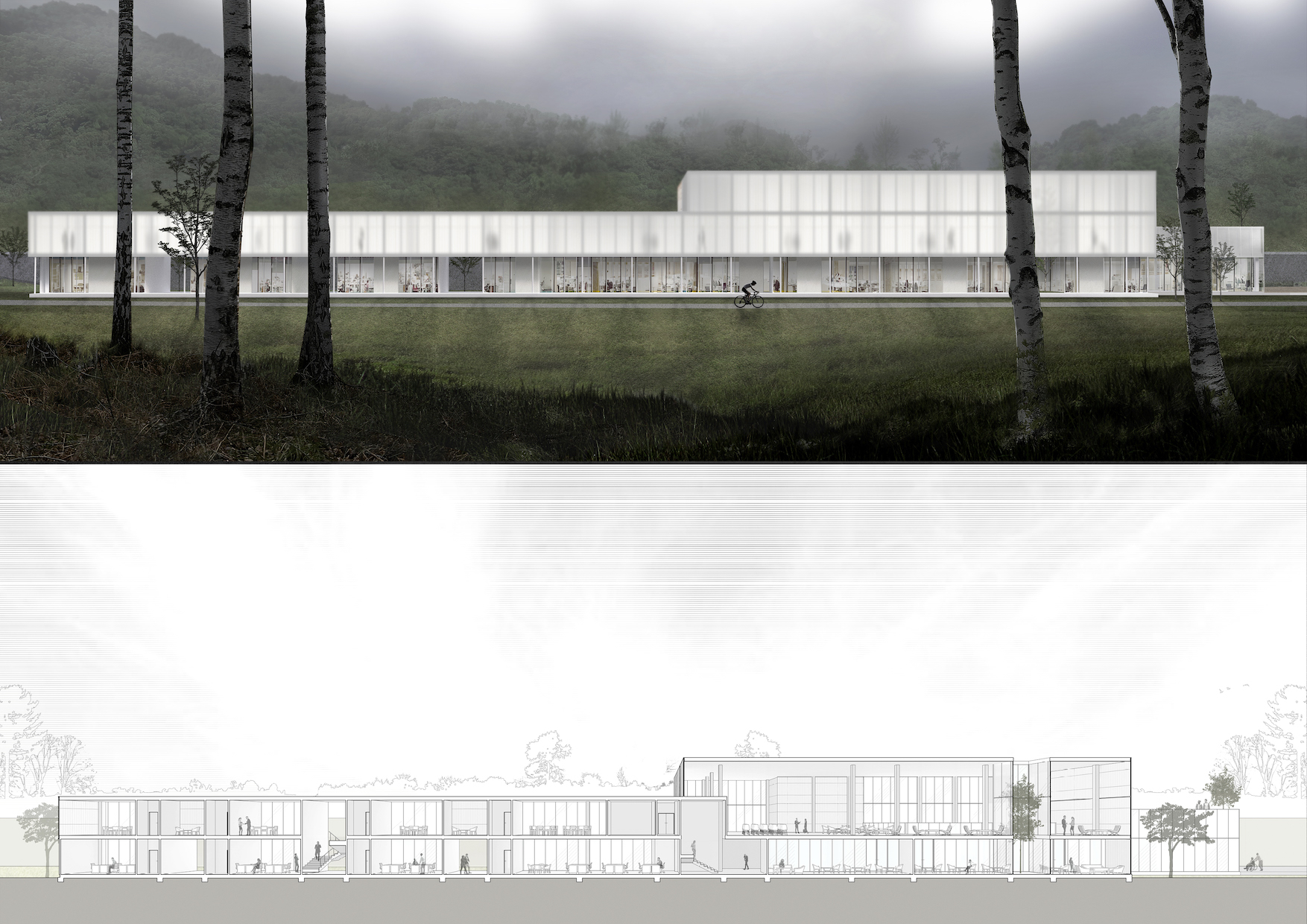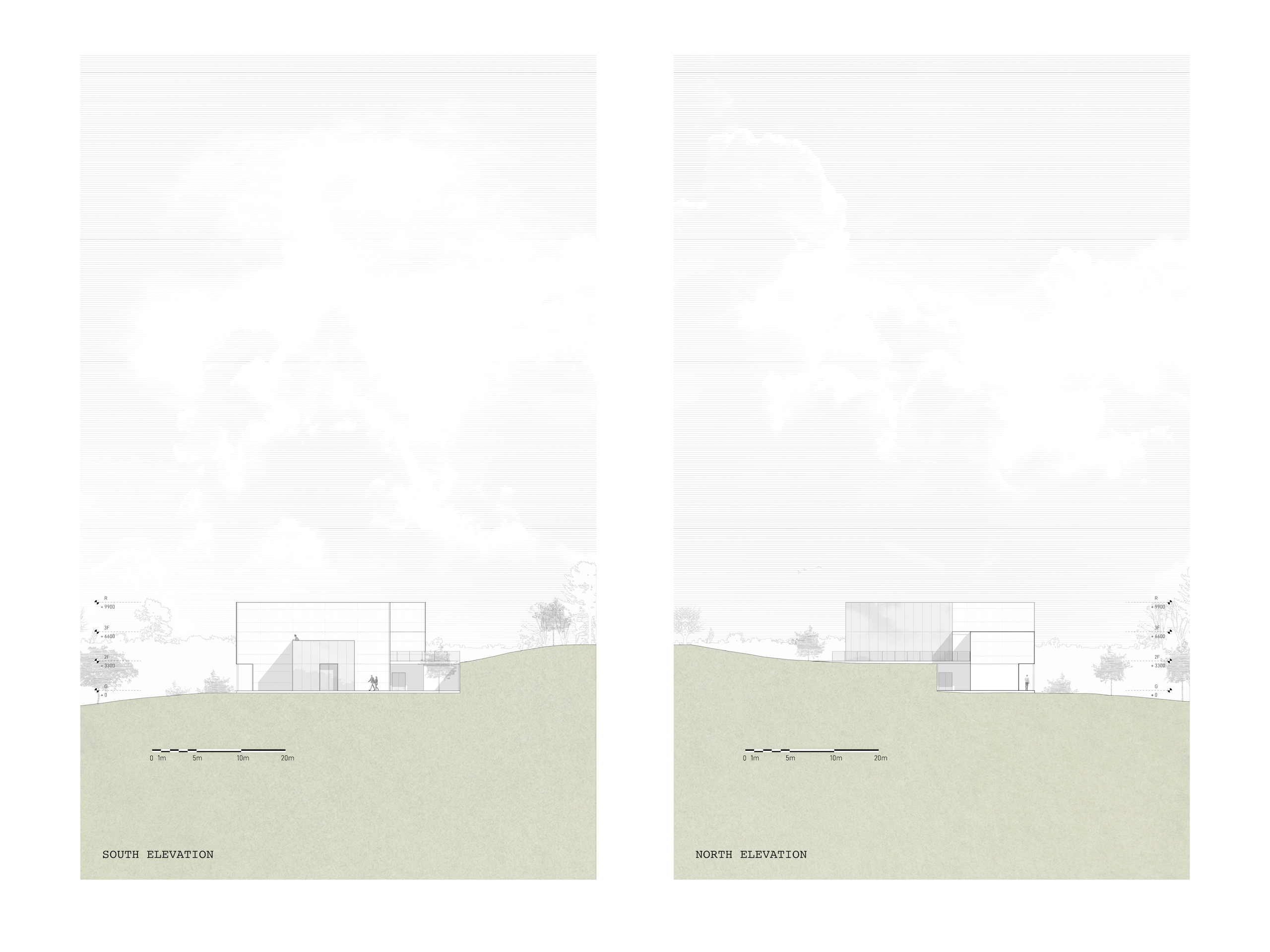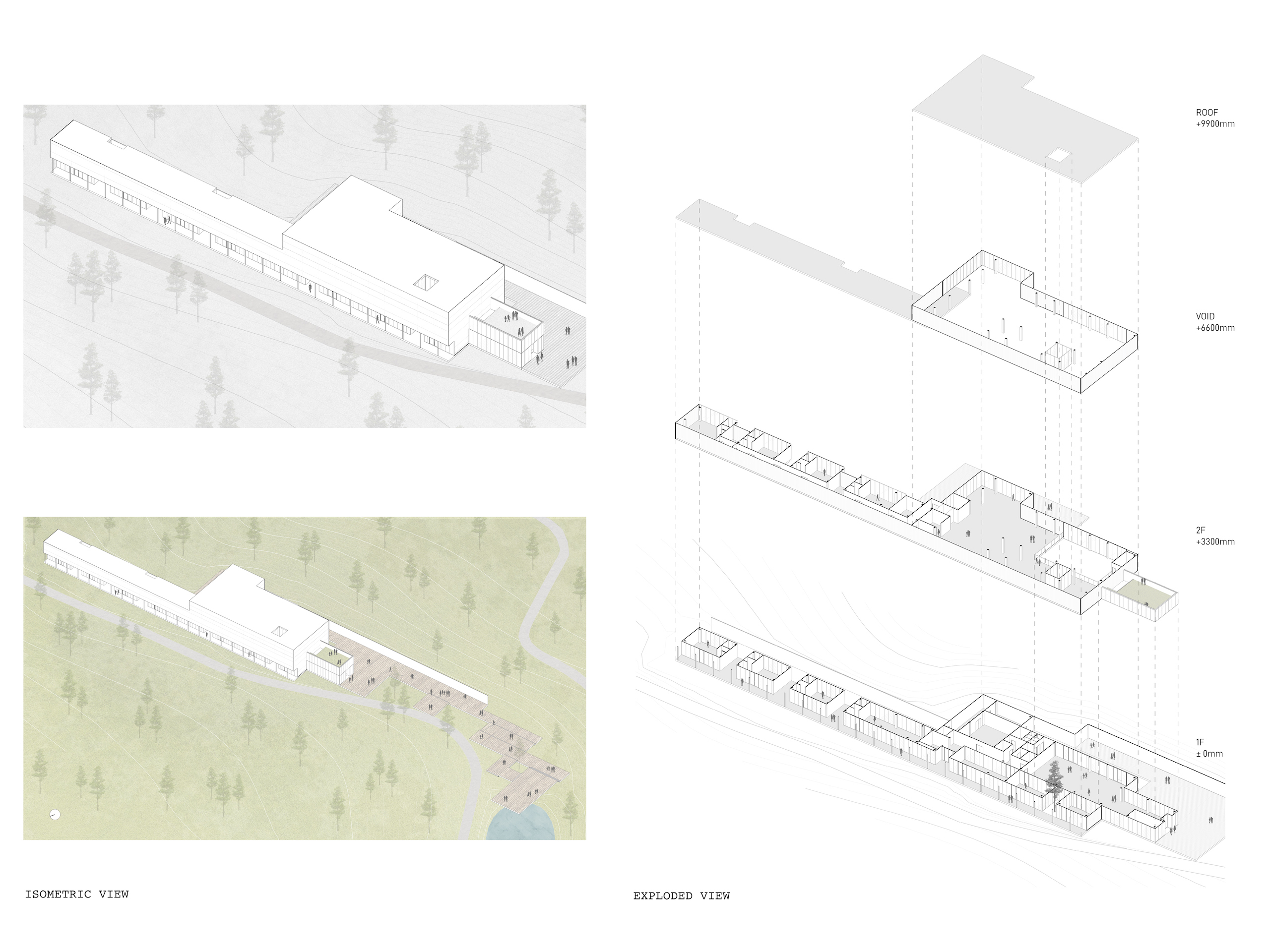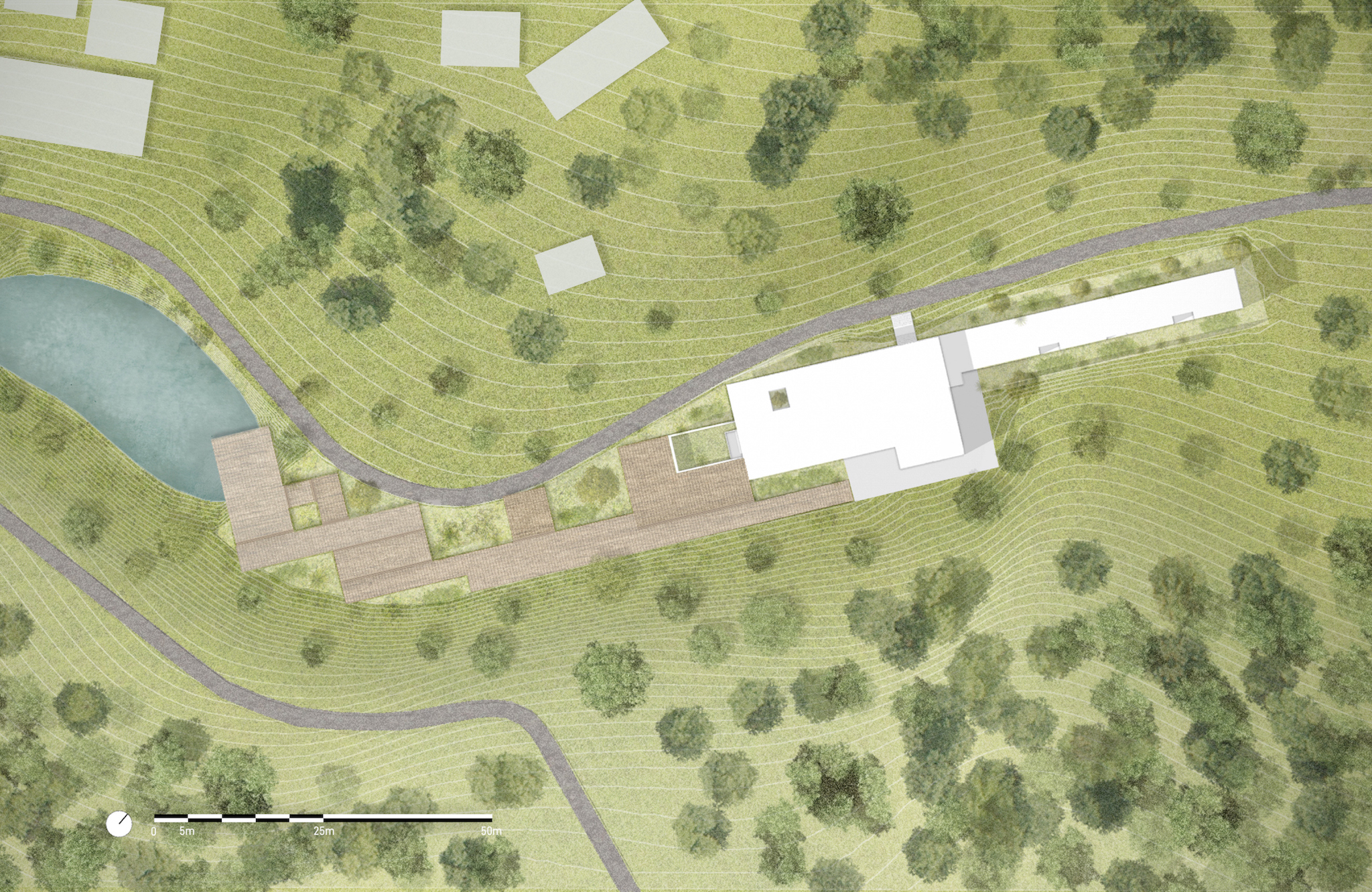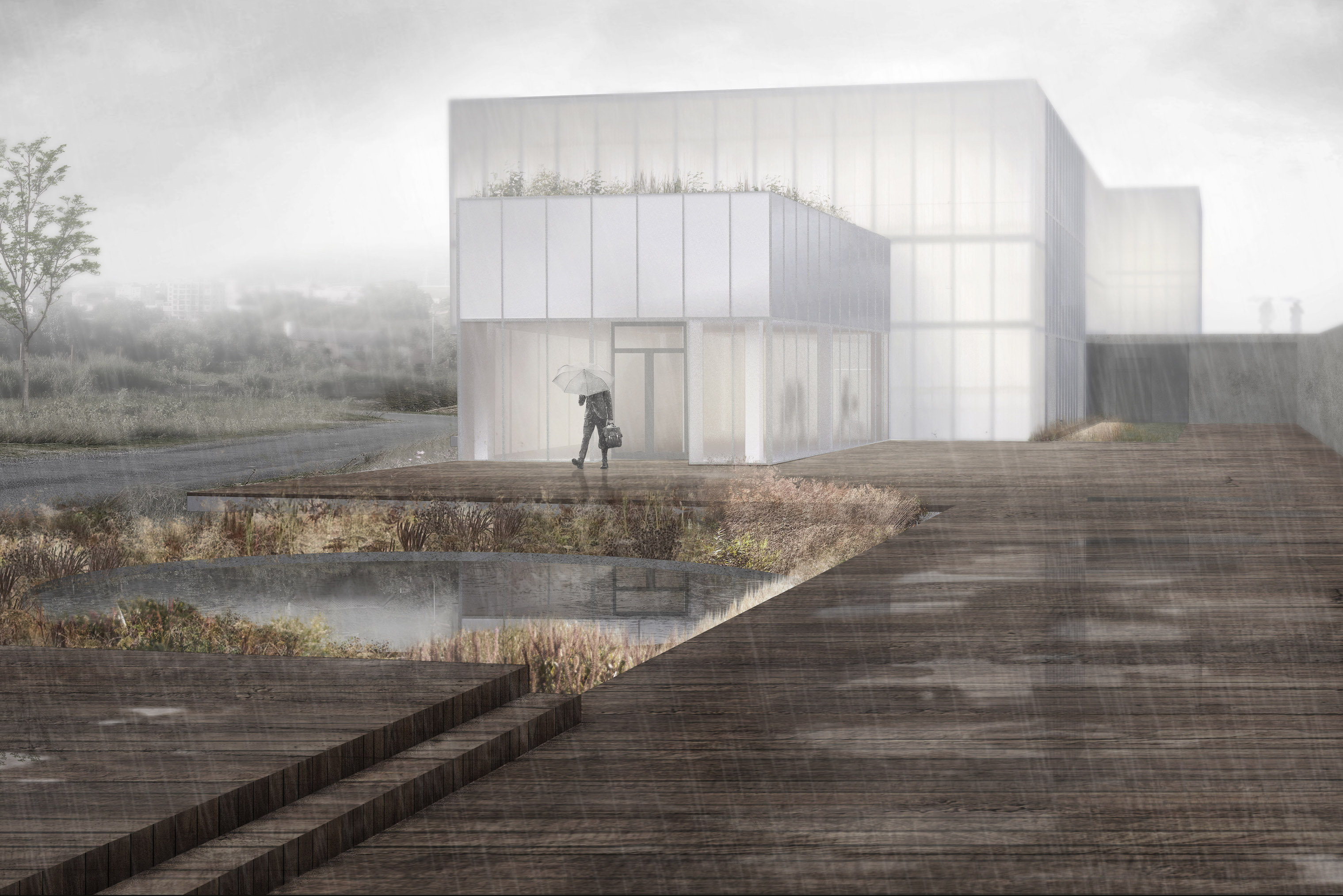 [Please click on the picture to enlarge]
---
Client : Confidential Chinese Developer
---
Location : Guangming, China
---
Program : Community Center, Cafeteria, Conference, Offices, Dining
---
Built Area : 2165 sqm
---
Site Area : 3900 sqm

---
Year : 2018
---
Status : On-going

---
Despite being situated about 26km from Shenzhen, Guangming has a surprisingly agrarian village-like character. This project is intended to kick-start the creation of a park designated for the education of both agriculture and ecology. The first building to be constructed within this park will be a 2165m2 multifunctional visitor's centre. The double-height structure contains a multi-use space, a couple of small enclosed rooms on the ground floor and a cafeteria on the second floor.

The main building is conceived as a 10 meter-tall polycarbonate box. The materiality of the polycarbonate panels allows for fast construction but also refers to the agricultural character of the greenhouses found throughout the park. The circulation is conceived as a covered corridor running parallel in front, along the whole of the structure. From this corridor one enters the main building, but walking further along there are a cluster of dining rooms placed over two floors. The corridor also takes the visitors to the decks in front of the building leading to a pond and the further onto other areas of the park.

大都市深圳から約26kmしか離れていないにも関わらず、光明は驚くほど牧歌的な農村のような場所です。このプロジェクトは、農業と生態学の研究のために指定されたパークの開設にあたり計画されました。このパーク内に最初に建設される建物は、2165㎡の多機能ビジターセンターです。2階建ての建物は、多目的スペース、1階に2つの小部屋、2階にカフェテリアを有します。


本館は高さ10メートルのポリカーボネート製の箱として構想されています。ポリカーボネートパネルを用いることは迅速な建設を目的にしていますが、同時にパークを通して各所に見られる農業用の温室と同化することも考慮しています。建物の正面に平行に走る屋根付きの廊下は主な動線として設計されています。この廊下によって訪問者は本館に導かれ、さらに2階のカフェテリア、そして建物の前のデッキへと誘われます。訪問者はまたこの廊下を利用して敷地内の池、さらに公園の他のエリアに行くことができます。
---
ORANDA-JIMA HOUSE
AFTER-SCHOOL HOUSE + COMMUNITY CENTER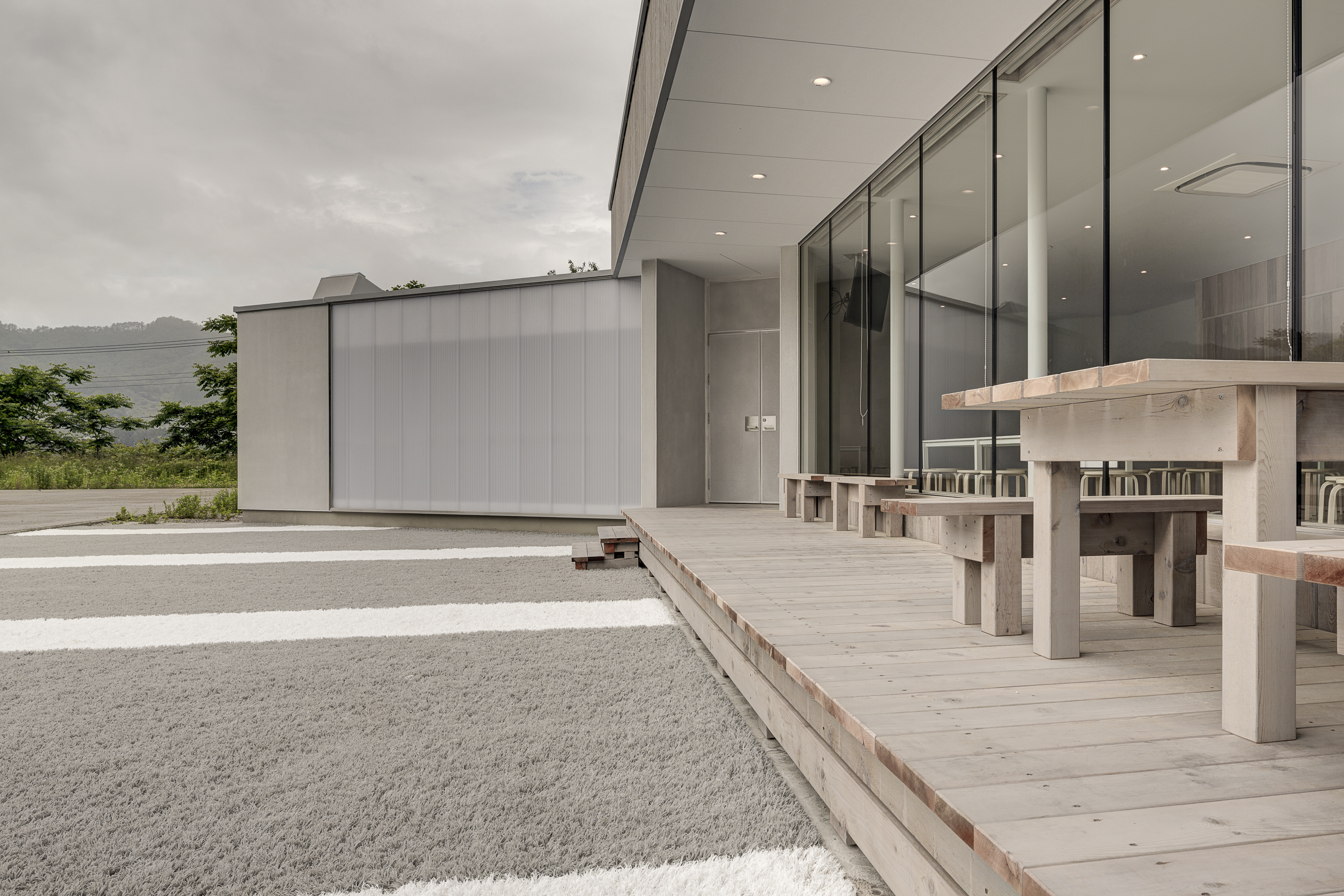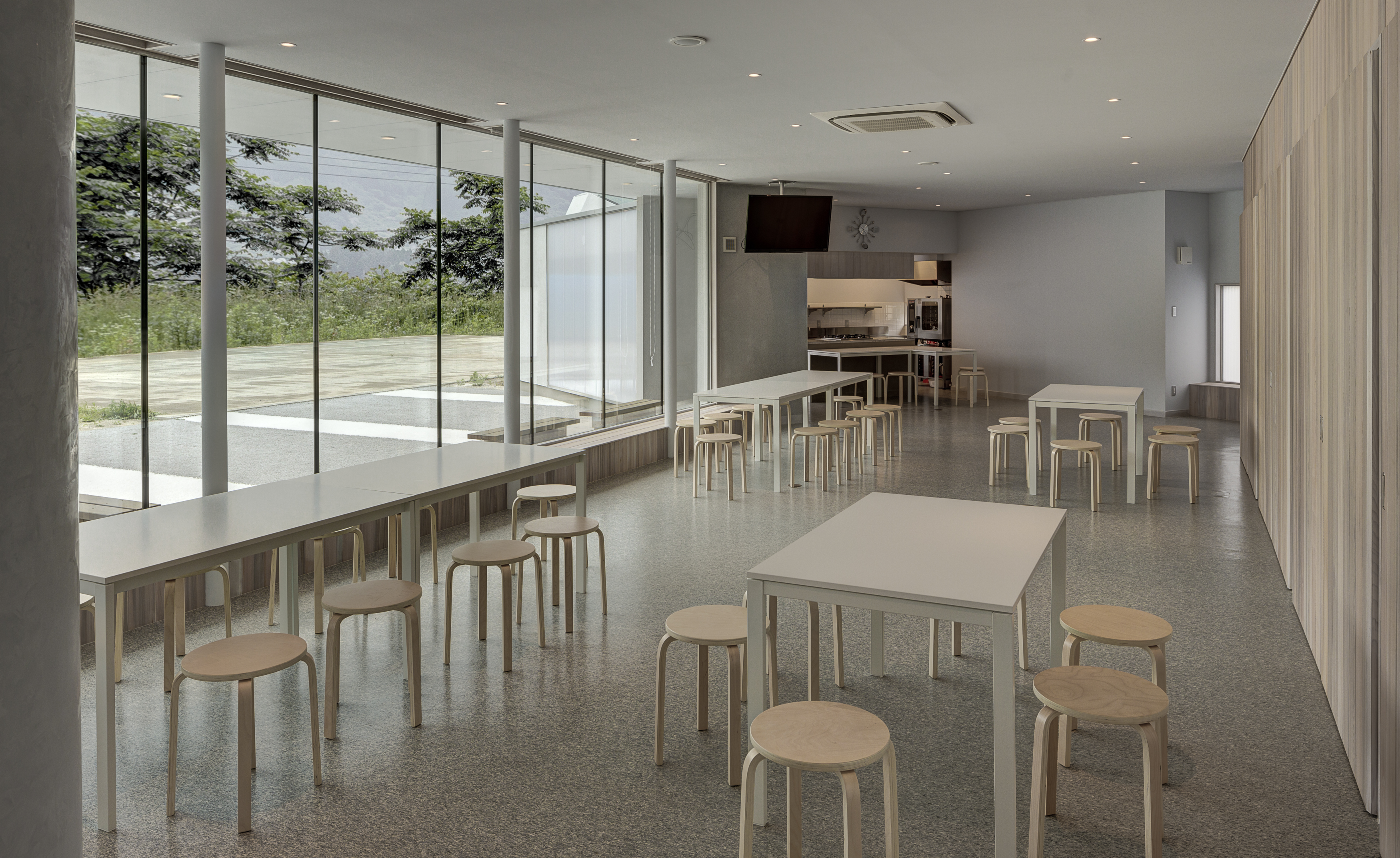 [Please click on the picture to enlarge]
---
Client : Oranda-Jima Foundation
---
Location : Yamada-machi, Japan
---
Program : After-School House, Community Center
---
Plot Area : 713 sqm
---
Built Area : 210 sqm
---
Year : 2011-14
---
Status : Completed
---
Photography : Josh Lieberman
---
Winner of "Silver A'Design Award 2015" in the category of Architecture, Building, and Structure Design
---
Yamada-machi is a town located on the central coastline of Iwate prefecture in the north of Japan.
After a devastating earthquake and tsunami hit the town on 11 March 2011, a foundation called Orandajima Foundation was established which offered to design and build a facility where children would have a place to play, heal and come together. Following extensive consultations with the local authorities, it was proposed in February 2012 to establish an after-school house and community centre.
The Foundation is named after the island where in 1643 a Dutch ship, called The 'Breskens' landed in the Bay of Yamada. This island was called 'Oranda-jima ('Holland Island') 350 years after the 'Breskens' stranded there.
The program asked for a flexible building of approximately 200 square meters to accommodate about 60 children.

Located on a hill, safe from future tsunami's, the wooden building stands as a simple, silent structure. We have designed building from the inside out aiming for an immersive experience by the young users. Through the use of contrast in scale, a variety in textural materials and other subtle detailing we believe that there is a certain depth in the space that goes beyond the visual. Great care has been given in the way natural light enters the interior spaces. On the west side of the house we have placed another polycarbonate window. Behind this window are trees and the setting sun will cast play-full shadows of these trees on this translucent panel, not unlike a Japanese rice paper screen.
Through this window, during certain periods of the year, the light of dusk will bathe the main room in hazy orange for a short period of time. The hope is that this harnessing of light will stir a contextual sensitivity within the users.


山田町は、岩手県の海岸線中央に位置する北部の町です。

2011年3月11日に東日本大震災と津波が町を襲った後、一般社団法人オランダ島と呼ばれる財団が設立され、子供たちが遊び、癒され、そして集まる場所を提供する施設を設計および建設することが提案されました。地方自治体との広範な協議の結果、2012年2月に課後児童クラブ、及びケアセンターを設立することになりました。

財団の名前の「オランダ島」は、1643年に「ブレスケンス」と呼ばれるオランダの船が接岸した山田湾にある島にちなんで名付けられました。「ブレスケンス」が漂着した島は漂着から350年間もの間「オランダ島」と呼ばれていたのです。本プロジェクトでは、約60人の子供を収容できる約200平方メートルの建物が計画されました。

木造の建物は、将来に起こり得る津波から守られるように丘の上にミニマルで静かに佇んでいます。子供たちがイマーシブな経験が出来るように、建物は内側から外側へと設計されました。スケールのコントラスト、さまざまな質感をもつ建材、その他の微妙なディテールを取り入れたことが、視覚を超えた空間の深さを生み出していると考えています。また自然光が内部空間に入るように細心の注意が払われています。家の西側には、ポリカーボネート製の窓を設置しました。この窓の後ろには木々があり、夕日はこの半透明のポリカーボネート製のパネルを通して、木々の遊び心のある影を室内に落とします。

一年のある季節には、この窓からの夕暮れがメインルームをオレンジ色に霞むに光にしばらくの間包みます。この光が子供たちに豊かな情緒を与えることを願っています。


---