Post-Covid Office
FOCUS ON THE INDIVIDUAL EXPERIENCE AT WORK
---
Client : Global Consulting Firm
---
Location : Tokyo, Japan
---
Program : Office
---
Area : 3000 sqm

---
Scope : Design

---
Year : 2020~2021
---
Status : Built
---
Photos : Vincent Hecht
---
[Please click on the picture to enlarge]
---
Despite the onset of Covid, we continued to design corporate workplaces. For some of those projects, the management premise was that a vaccine would soon signal the return of business back to the Pre-Covid workplace. For those offices, the design included temporary solutions such as physical distancing and other protocols that could be changed once the world would
return to normal
.
This particular project also started pre-Covid but took a different route. Together with the client, we developed
an alternative, holistic, future-orientated approach
towards the office. This resulted in a space that is more than just a furniture solution but an integrated conceptual space in which IT, acoustics and lighting design all takes part to form a space in which users can have
a choice of how they want to work
. The emphasis of this project is on the focus of the individual experience of space.
This project comes to two conclusions:
The Covid curfew restrictions have shown that most office work is already performed mainly in a digital environment (computer, phone etc…) and is not limited to a specific physical location, work can be done anywhere
The role of the office is in its communal, social function; a space to bring people together, to express what a company stands for. Thus the importance of design as an expression of an authentic message of how and where a company wants to let their employees work.
---
AN OFFICE WITHOUT WALLS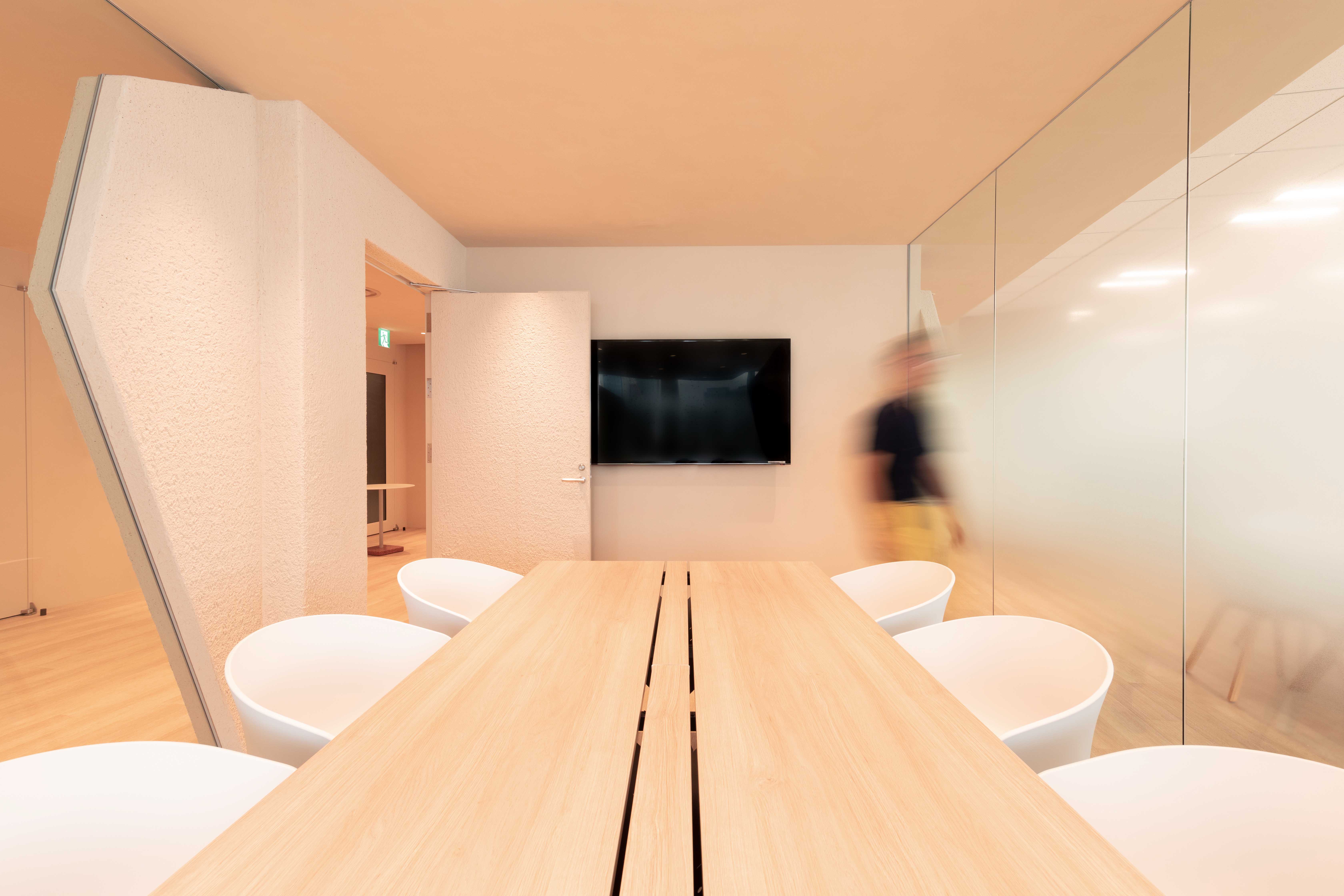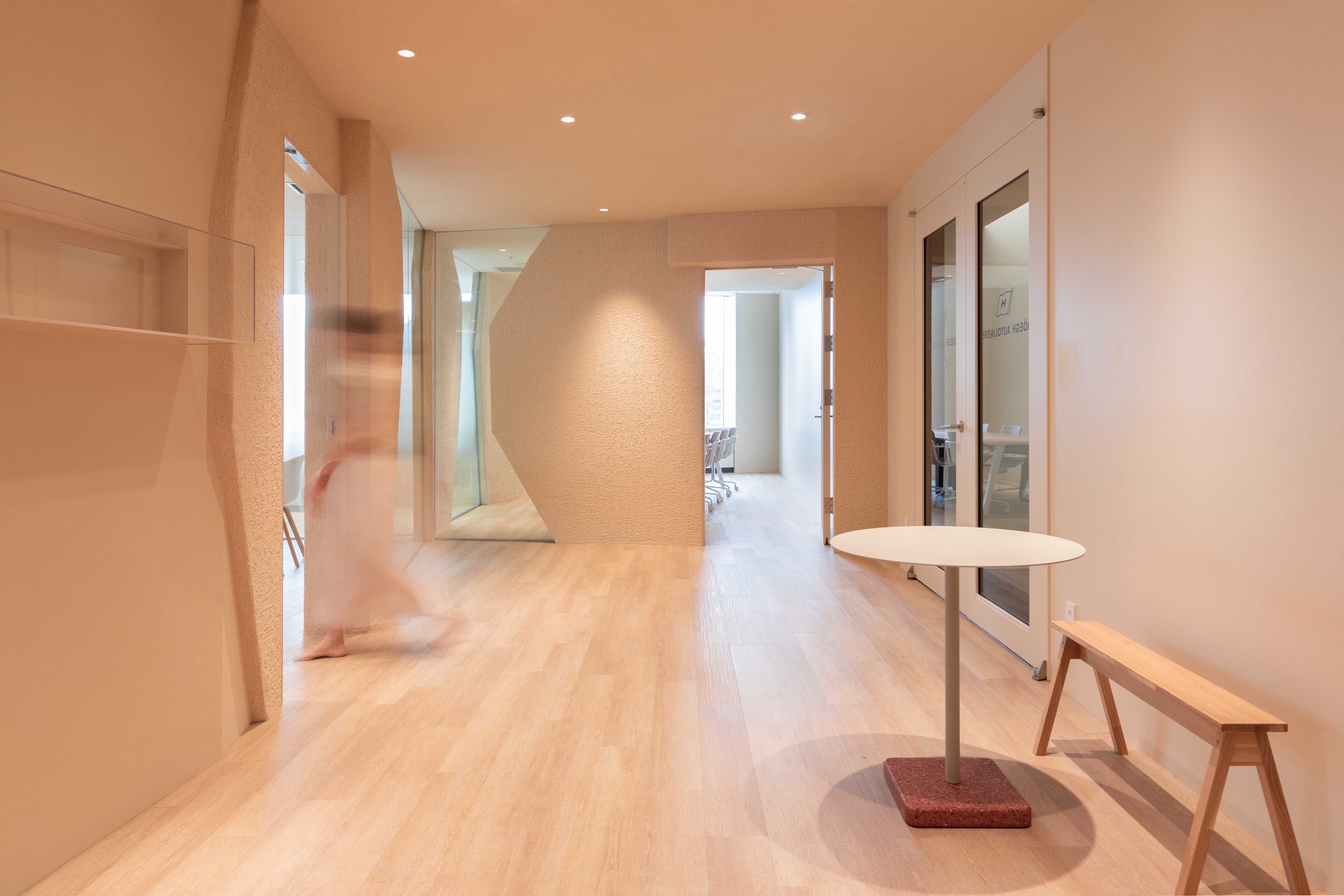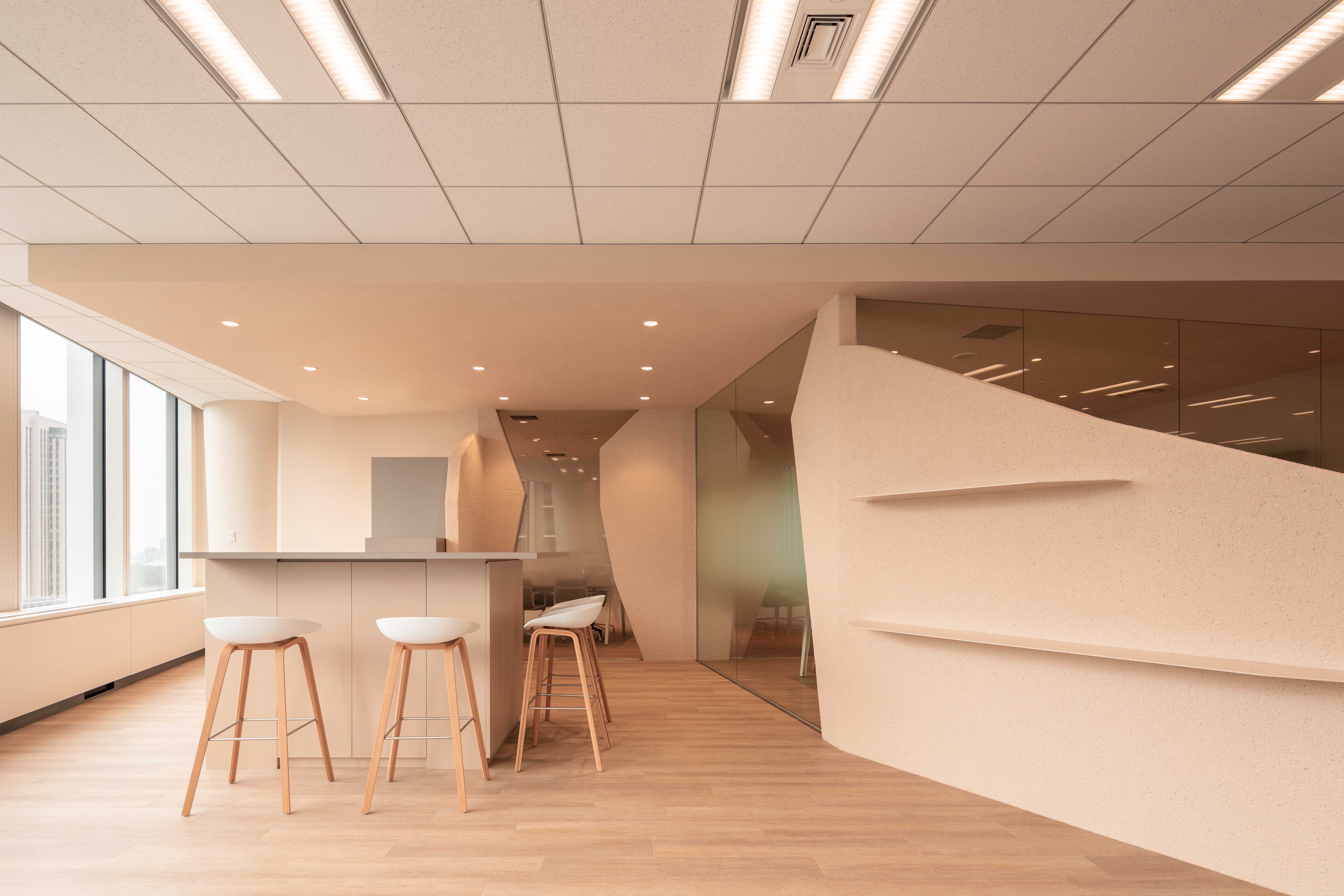 ---
Client : Hoegh Autoliners
---
Location : Tokyo, Japan
---
Program : Post-covid Office
---
Area : 265m2

---
Scope : Design - Project Management

---
Year : 2021
---
Status : Built

---
Photos : Vincent Hecht
---
[Please click on the picture to enlarge]
---
This shipping company had seen our work and wanted something different for their offices as well. Their brief asked for a Futuristic Office Space, that reflected their Norwegian Maritime Heritage and that would still look fresh after 10 years.
We translated these requests around 4 conceptual keywords which would form the basis for the design.

1. Bright:
We suggested using a very light colour palette. Throughout the whole space, we installed a light wood oak floor. We used light cream coloured, thick, rough and smooth stucco finish for wall surfaces. Especially the rough stucco diffuses the daylight beautifully.

2. Views:
When we entered the new space for the first time we felt that the views of this relatively small office gave so much character to the space that we wanted to make sure that even after we constructed the programmatic needs such as meeting rooms, storage room, the space would not lose its openness that we felt so strongly during our initial visit.

3. No Walls:
Thus we tried to keep the space as open as possible. To keep this sense of openness we tried to avoid, wherever possible to have any fully enclosed room. Instead, we placed angled objects made of rough stucco in the space and filled these in with glass. These walls then spatially project that sheltering feeling of enclosure off it without really creating a room. By cutting parts of these walls off at the bottom or their top we played with the leftover spaces in between these open enclosures. By moving through the space, even very slightly the negative space between these walls would change depending on the angle viewed of this in-between open space. As such one never gets the feeling of being inside a room, as depending on the location within this space there are always views taking the viewer beyond that room.

4. Sail & Rock:
These enclosures form shapes that would maybe remind the users and visitors of rocks or sails on a shimmering sea. At least that is the impression we have tried to convey with those shapes.

Conclusion:
We believe that these four elements created an office that programmatically fulfilled the needs of a hybrid post-covid office in which staff could come to the office to be inspired. While in the office the movement through the space would be part of the inspiration that we aimed to transmit: that as there is no real enclosed space but that the various viewpoints and the diversity of these viewpoints together with the changing daylight throughout the day would make the space feel alive, ever-changing.



---
TY Apartment

AN APARTMENT REFURBISHMENT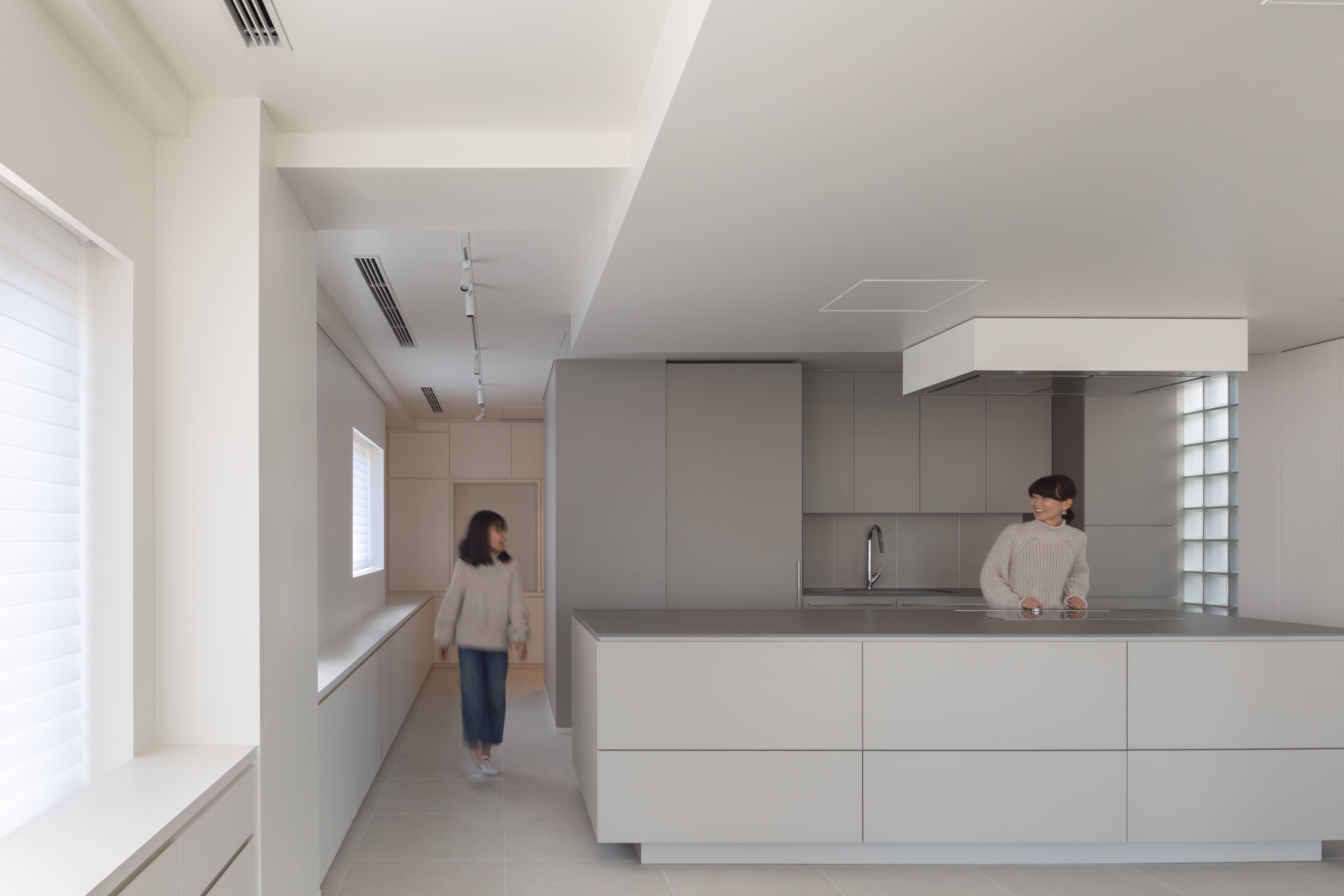 [Please click on the picture to enlarge]
---
Client : Private Client
---
Location : Suginami-ku, Tokyo
---
Program : Residence
---
Area : 230m2

---
Scope : Design, PM

---
Year : 2021
---
Status : Built

---
Photos : Vincent Hecht
---
---
A renovation project of a 30-year-old apartment in the Western suburbs of Tokyo. The apartment had been unoccupied for over 10 years and the client requested a complete overhaul. The apartment complex consists of several relatively large units around 200m2.

We started the design by trying to open up the space as much as possible. We removed the corridor and opened the kitchen which previously awkwardly squeezed along the facade. As such a lot more daylight could enter the space. We opened up the entrance by cutting the wall towards the living room and also removed two more walls of what used to be the dining room and storage closet. This created a much larger open combined living-dining area. The custom-designed new kitchen island provides a low barrier while also connecting the kitchen to the living area. We added more height by removing the ceiling but lowered the ceiling above the kitchen dining area to integrate the new air conditioning ducting as well as to spatially accentuate the dining area.

A new, open passageway to the bedrooms was placed along the facade. Storage was added below the windows. More storage was added where the corridor turned behind the kitchen towards the bedrooms. The corridor thus creates also space on either side for the washing machine, dryer and a full-height kitchen pantry storage. An alcove was left within this storage unit for a large antique statue. Automatic blinds were integrated within the walls allowing us to add a layer of insulation. A new floor was installed and due to recently implemented, stricter regulations which imposed a raised acoustical underfloor to absorb contact noise as much as possible. The client opted for a large 600mm square Italian tile under which floor heating was placed. For the bedrooms, light oak floors were installed.

The previous master bathroom with a minuscule sauna was demolished and replaced with a custom-built shower room. Here handmade Italian tiles were installed on the floor and walls. Part of the sauna space was integrated into an enlarged walk-in closet. All furniture was custom designed and as much as possible integrated within the interior space.
---
RUNTRIP, Shibuya

GIVING A BUILDING A SECOND LIFE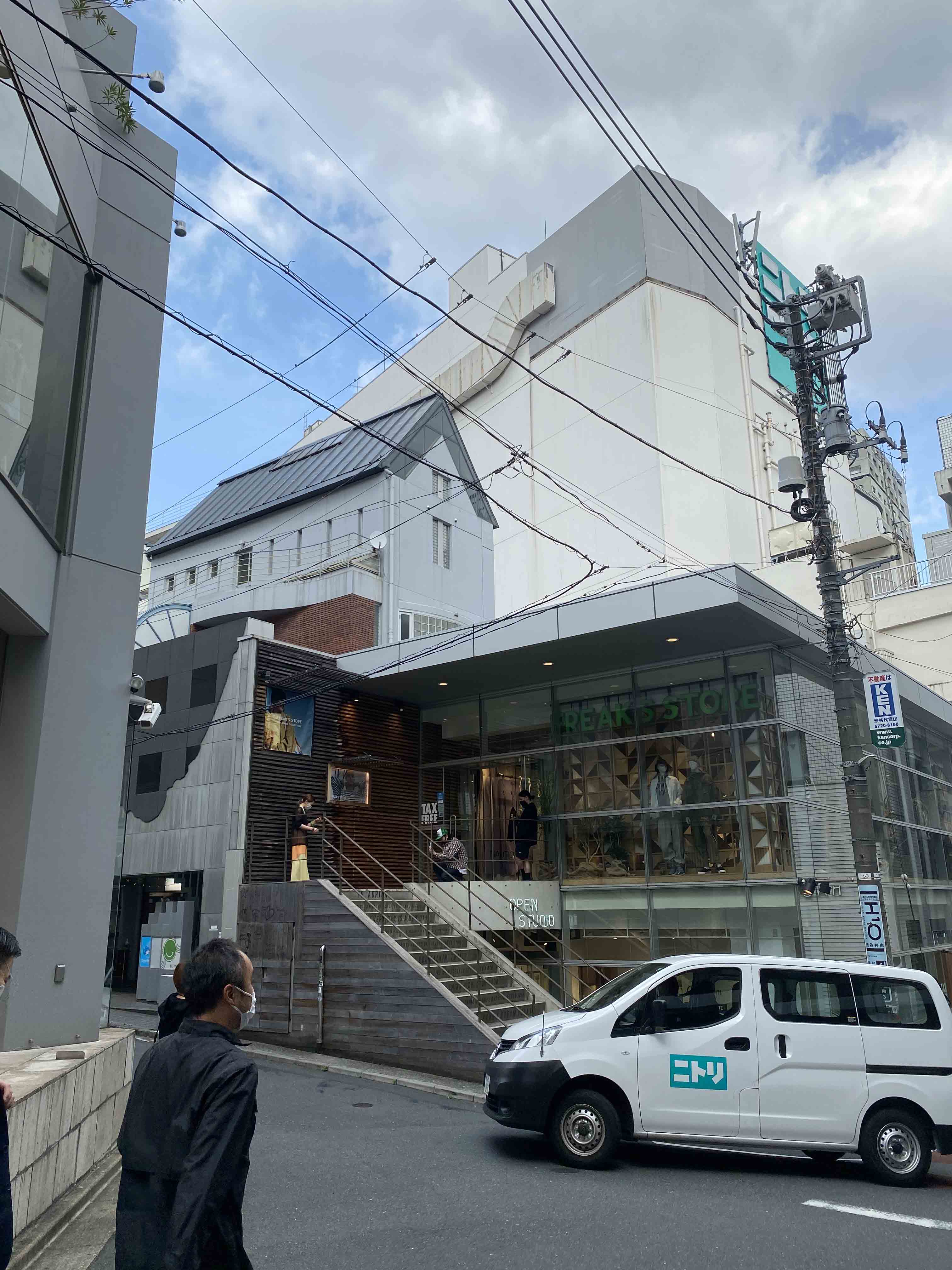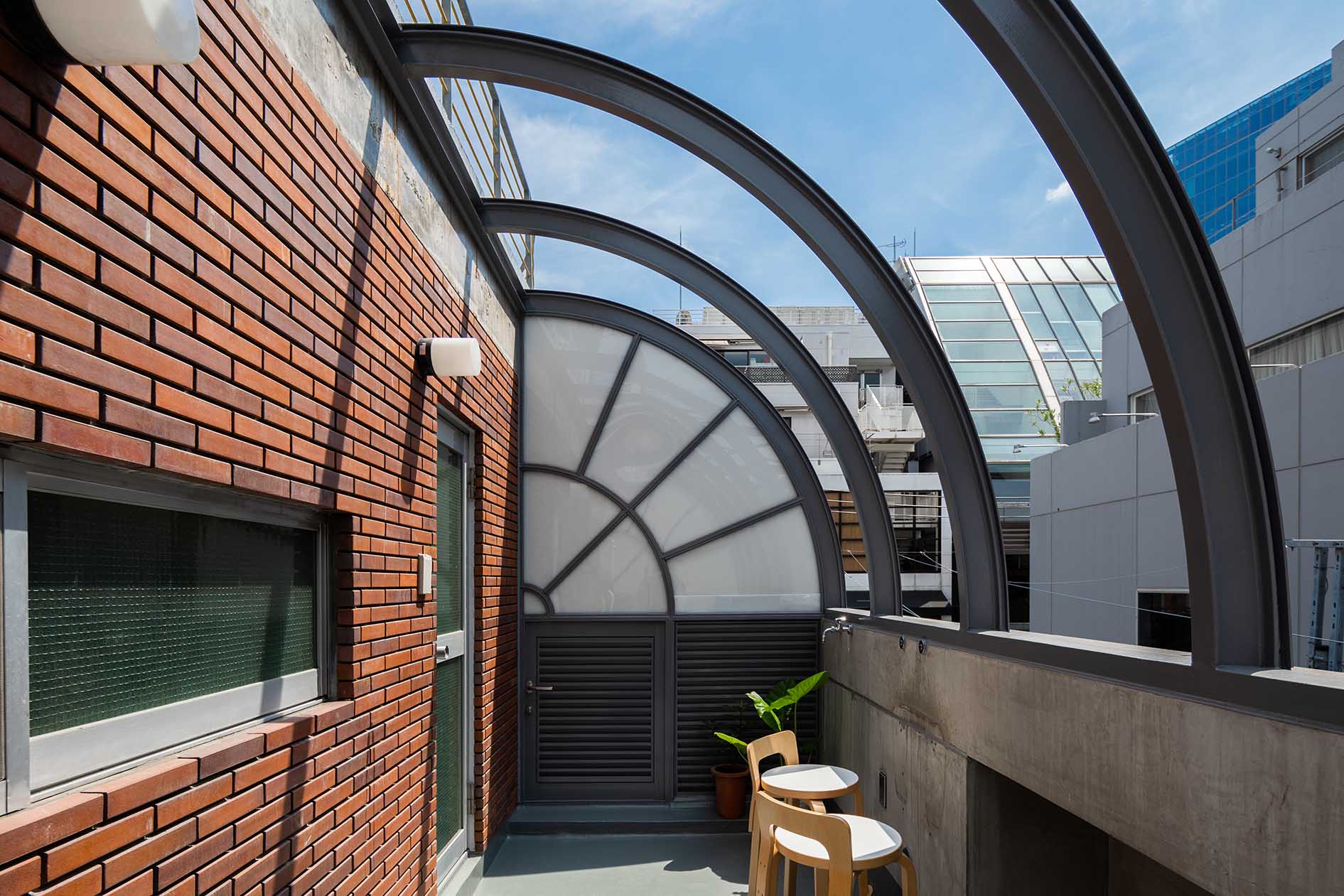 ---
Client : Runtrip
---
Location : Shibuya, Tokyo
---
Program : Post-Covid Workplace
---
Area : 200m2

---
Scope : Design, PM

---
Year : 2021
---
Status : Built

---
Photos : Vincent Hecht
---
[Please click on the picture to enlarge]
---
For our Runtrip project we have, on a very modest scale, attempted to give a 35-year-old building a new life. Rather than completely removing everything inside, we decide to emphasise the life that had happened within this house. We wanted to show not just what was newly added, but also what was there, that which we have deliberately left as is.

The building, located in the central shopping area of Shibuya was used partly as a shop, with a three-story residence on top. When this house was vacated after 35 years, the new landlord wanted to turn it into a rentable office space. The client, Run Trip, a sports app developing company, showed interest in the space and asked to hold off on the renovation by the landlord. We were brought in for a design solution; to create a workplace, not a typical office, but a post-covid workplace, something like a base. With the pandemic continuing over a year, and most of the employees working from home, the client looked for a place where people could drop in anytime for conference calls, casual meetings, teamwork, take a shower after a run, but also to record their Youtube live chat and various social hold events.

This type of project was new to us, as most of our work in Japan start with tearing down, removing anything that hints at a history of what was once there. As Runtrip had stopped the renovation project by the landlord, this limited our scope as the renovation budget was fixed by what the landlord had designated for the work. Thus we aimed for minimal changes; the removal of an existing large closet and the removal of a few false ceilings.

We set out discussing this conceptual idea with Runtrip that, whatever was removed would be shown. We aimed at treating the historical part of the building as a kind of invisible presence, we left these "wounds" of the removal, the cuts, incisions, clearly visible. The imprint of where the wall closet used to be is still visible, the back is mortar, the walls around it are freshly painted white. Dents, cuts, holes, wallpaper is partly removed all painted over. New, more energy-efficient, LED lights are added to the ceiling but the location of the old lights remains visible. All electrical wiring was installed outside of the walls and the metal ducting is placed, decoratively on the walls and ceiling. The building contained a variety of floors which have all been painted over in grey rubber paint, leaving the texture of the previous material visible below.

We hope that this type of renovation can be inspirational for both clients and architects alike, that spaces can, and often deserve a new life. But also that we, as architects can and should take a more humble approach to the re-creation of space.
---
WoC-TOKYO
A BRIGHT AND TACTILE OFFICE
[Please click on the picture to enlarge]
Client : Confidential
---
Location : Tokyo
---
Program : Office, Meeting Rooms, Breakout Space, Private Offices
---
Area : 765 m2

---
Year : 2020
---
Status : Completed
---
Photos : Vincent Hecht
---
This is a corporate interior project in a space that is not a typical office space. In a former gym the owner had inserted a second floor which was subdivided into long and narrow spaces. As the client took the whole floor we removed all these dividing walls and created one large connected, open space.

The design intend was to create a space that went beyond the purely functional requirements. Instead we focussed on the creation of a narrative in which the users of the space, the employees as well as visitors, would get a unique experience of this space. Removing the dividing walls allowed daylight to flow more uniform through the space. The larger space also provided for a wider variety of viewpoints. To keep this feeling of openness we went for a very clean look with light wood accents. We also want to bring in tactile materials to give us a textural, distinctive surface. Most of the walls are finished in a hardwearing, light beige stucco with either a smooth or a more rough finish.
We placed wood cement boards diagonal on walls as a dynamic, decorative element which also ensured a comfortable level of acoustics throughout the space. In the work area we installed a concrete colour vinyl tile on the floor, for the circulation and some enclosed rooms we used a light washed oak, enclosed rooms are carpeted.

At the entrance steps down lead to two glazed client meeting rooms, from there visitors turn right towards a larger meeting room that can accommodate up to twelve people. The glass wall of this meeting room can be opened up and the space in front can be used for presentations, seminars or town hall meetings. In the same space around the corner, up three steps, we placed a pantry kitchen under a louvered ceiling. Across this pantry is a nook where the walls, ceiling and floor are all in finished in a dark blue colour. Black and dark blue furniture is placed on a thick blue carpet, creating a soft and comfortable atmosphere where staff can have a coffee, have a quiet chat or do some work.

You can watch a One Minute Architecture video with a more detailed description of the project here



これは、典型的なオフィススペースではない空間における、企業インテリアリノベーションプロジェクトです。かつてはスポーツジムであった天井の高い空間に、ビルオーナーが2階を増床し、その2階は細長い小さいスペースに分割され使用されていました。施主がこの2階のスペース全体をリースすることとなったため、私たちはスペースを分割していた仕切り壁をすべて取り除き、1つの大きなオープンスペースとして設計することにしました。
設計の意図は、単に機能的なだけでないスペースを設計することでした。代わりに、空間を使用する社員、そしてビジターが、この空間を通してユニークな体験を得ることができるような物語を創ることに焦点を当てました。仕切り壁を取り除くことで、外光が空間をより均一的に流れるようになりました。より広いスペースはまた、より幅広い視覚的効果を持たらしました。この開放感を保つために、明るい木目調をアクセントとして用い、とてもすっきりとした印象に 仕上げました。また、手触りの違う素材を取り入れて、質感のある独特の表面を作ることにしました。ほとんどの壁は、滑らかな、または粗い仕上げの、耐久性のあるライトベージュの左官で仕上げられています。
ダイナミックな装飾的な要素として、壁に斜めに木毛セメント板を施し、またこの木毛セメント板は空間の快適な遮音性をもたらしています。執務エリアでは、床にコンクリート調のビニールタイルを設置し、廊下などの動線や、一部の部屋は、明るい色のオーク材を使用し、会議室部屋等はカーペットを施しました。
エントランスの階段を下りると、ガラス張りのクライアント用会議室が2部屋あり、その右手には、最大12人を収容できる大きな会議室があります。この大会議室のガラス間仕切りは開放可能で、大会議室の正面のスペースはプレゼンテーション、セミナー、タウンホールミーティングに使用できます。大会議室から3段のステップを上がった角にはルーバー付きの天井の下にパントリーキッチンを配置しました。このパントリーの向かいには、壁、天井、床がすべてダークブルーに仕上げられた一角があります。ブラックとダークブルーの家具が厚いブルーカーペットの上に設置され、スタッフがコーヒーを飲んだり、静かにチャットしたり、仕事をしたりできる、快適な雰囲気を作り出しています。
プロジェクトの詳細は、You Tubeチャンネル"OneMinuteArchitecture"
で動画を見ることができます。
---