Post-Covid Office
FOCUS ON THE INDIVIDUAL EXPERIENCE AT WORK
---
Client : Global Consulting Firm
---
Location : Tokyo, Japan
---
Program : Office
---
Area : 3000 sqm

---
Scope : Design

---
Status : Built
---
Photos : Vincent Hecht
---
[Please click on the picture to enlarge]
---
Despite the onset of Covid, we continued to design corporate workplaces. For some of those projects, the management premise was that a vaccine would soon signal the return of business back to the Pre-Covid workplace. For those offices, the design included temporary solutions such as physical distancing and other protocols that could be changed once the world would
return to normal
.
This particular project also started pre-Covid but took a different route. Together with the client, we developed
an alternative, holistic, future-orientated approach
towards the office. This resulted in a space that is more than just a furniture solution but an integrated conceptual space in which IT, acoustics and lighting design all takes part to form a space in which users can have
a choice of how they want to work
. The emphasis of this project is on the focus of the individual experience of space.
This project comes to two conclusions:
The Covid curfew restrictions have shown that most office work is already performed mainly in a digital environment (computer, phone etc…) and is not limited to a specific physical location, work can be done anywhere
The role of the office is in its communal, social function; a space to bring people together, to express what a company stands for. Thus the importance of design as an expression of an authentic message of how and where a company wants to let their employees work.
コロナ禍の中、私たちはコーポレートオフィスのデザインを続けました。いくつかのプロジェクトは、ワクチンの作成によってコロナ以前のワーキング環境に戻ることを前提としました。このような場合、デザインを考える中で、特に重要視したのはソーシャルディスタンスという点と、世界が再びコロナ以前の通常を取り戻した時に、より速やかに元の環境に戻せる点でした。

このプロジェクトは元はコロナウィルス感染拡大前に始めたものです。あらゆる可能性を踏まえて 全体を捉える、未来志向なアプローチをクライアントと共に考えました。 結果的に、IT、音響、照明の全てが、ユーザーが使いたいように使えるスペースを作り 上げています。このプロジェクトの重点は、一人一人が使いやすいスペースをデザイン する事でした。

 コロナ対策の制限や門限により、オフィスワークのほとんどが既にデジタル化されている事を知らされ、仕事は環境を問わないとわかりました。オフィスの役割とは、人々を団結する事であり、その会社の存在を示す事です。よって、オフィスのデザインは、企業が社員にどう仕事をして欲しいのかを率直に表すのです。
---
LabCorp
---
Client : LabCorp
---
Location : Harumi, Tokyo
---
Program : Post-Covid Workplace
---
Area : 1270m2

---
Scope : Design, PM

---
Status : Built

---
Photos : Vincent Hecht
---
[Please click on the picture to enlarge]
---
This is a project for an existing client. We have worked with this client for years, but the event of Covid spurred the need to critically review the office. With most of their staff working from home, the role of the workplace was re-defined to embody of what the client called "a culture of flexibility, productivity, passion and accuracy." In order to translate this the workspaces were to support the various business functions. In this design the employees are treated equably and are provided with a healthy, safe and functional workplace where ergonomic and regulatory requirements are met. This functionality is based on practical need. By moving away from one personally assigned desk the concept of a new agile office is to create a workplace which is intended to provide employees with options for both focus and collaborative work. This results in a balanced workplace for healthier, happier and more productive employees. The design intents to support the different activities that staff perform during their work day. The work environment should be tailored in such a way so that employees can decide on any space that will support on your specific task at hand. Thus there are areas designated for tasks that require concentration, or other areas that can be used for teams to do reviews or other collaborative work.

Another focus of the design is ergonomics. One of the tangible advantages of the dispersal of work tasks throughout the office is the introduction of a wider variety of desk and chairs types for the employees to work at. This variety of work spaces promotes good posture and less repetitive motion as work does not have to be done in the same place everyday. Our suggestion was to employees spend your day enjoying the various seating and work desk types that are available in the office. Studies have show that changing positions while working will reduce stress on the muscles. By moving around the office during their work day, spending some time working on a standard desk, sitting an hour on a sofa and later moving to a high table where one can do some work standing, the design should help staff to feel less tired and feel more productive.
コロナの感染拡大により、オフィスを見直すことにした、⻑年の我々のクライアントは、社員のほとんどが自宅勤務をしているため、ワークプレースの役割は「柔軟性、生産性、パッション、正確性を大事にするものだ」と、定義付けを改めていました。このオフィスデザインは社員の一日の全てに寄り添っています。オフィスのデザインで重要なのは、社員が手元のタスクに合ったワークスペースを選べることです。集中して仕事をしたい時、チームで仕事やレビューをする時など、様々な状況にあわせた使い方ができます。これを実現するには、様々なビジネス機能をサポートできるワークスペースをデザインする必要がありました。このオフィスのデザインは社員の健康面を最重視し、安全で機能的なものとなっています。一人でもチームでも使えるフレキシブルなワークスペースを設けています。このようにバランスが取れたオフィスは社員にとって健康かつ生産的で、働きやすさを感じます。

 このデザインのもう一つの焦点は人間工学です。オフィス内でタスクを分布する利点の一つは、社員が使えるデスクやイスの種類が増えることです。毎日同じ場所で仕事をする必要がないということに、姿勢や動きに偏りができない、というメリットも加わります。仕事中に作業位置を変えることで、筋肉への負担が減ることが判っています。通常のデスクに向かう、そしてオフィス内を移動し、小一時間ほどソファに座って、さらにその後、たった姿勢で高さのあるテーブルに向かって仕事を続けるなど、オフィスの中の位置を変える動きを加えた環境は、社員の疲労を軽減し、より生産的な労働を生み出すのです。




---
AN OFFICE WITHOUT WALLS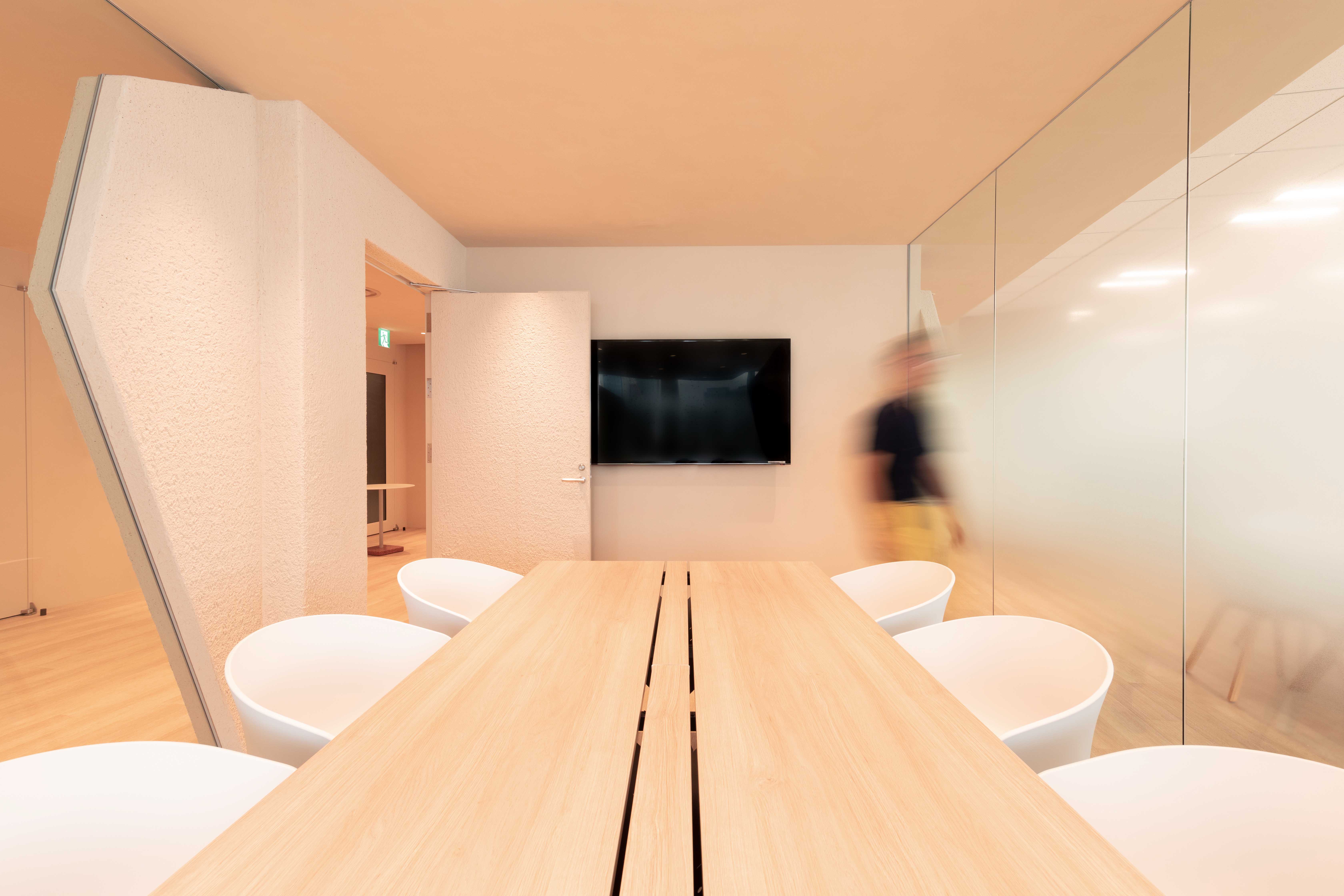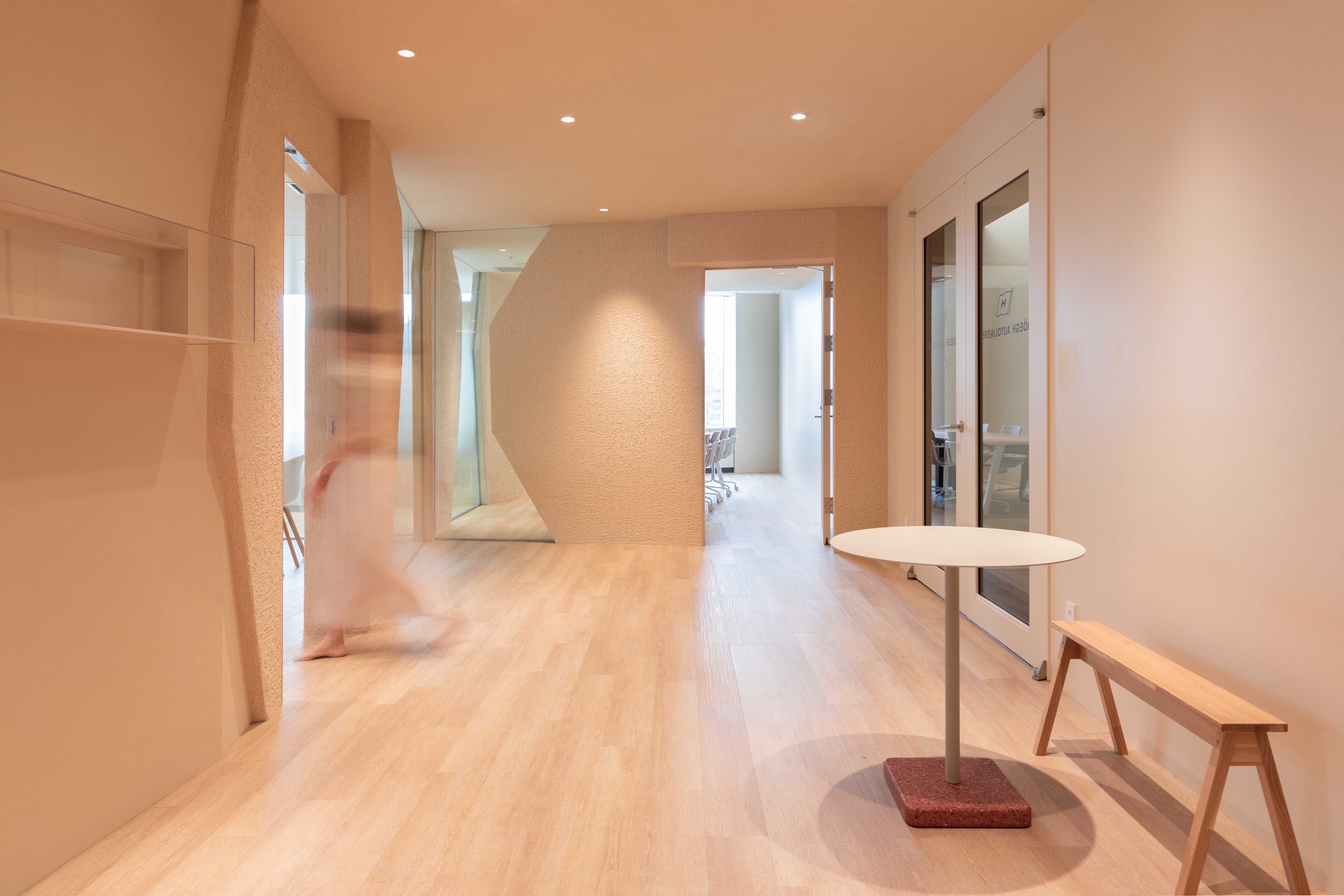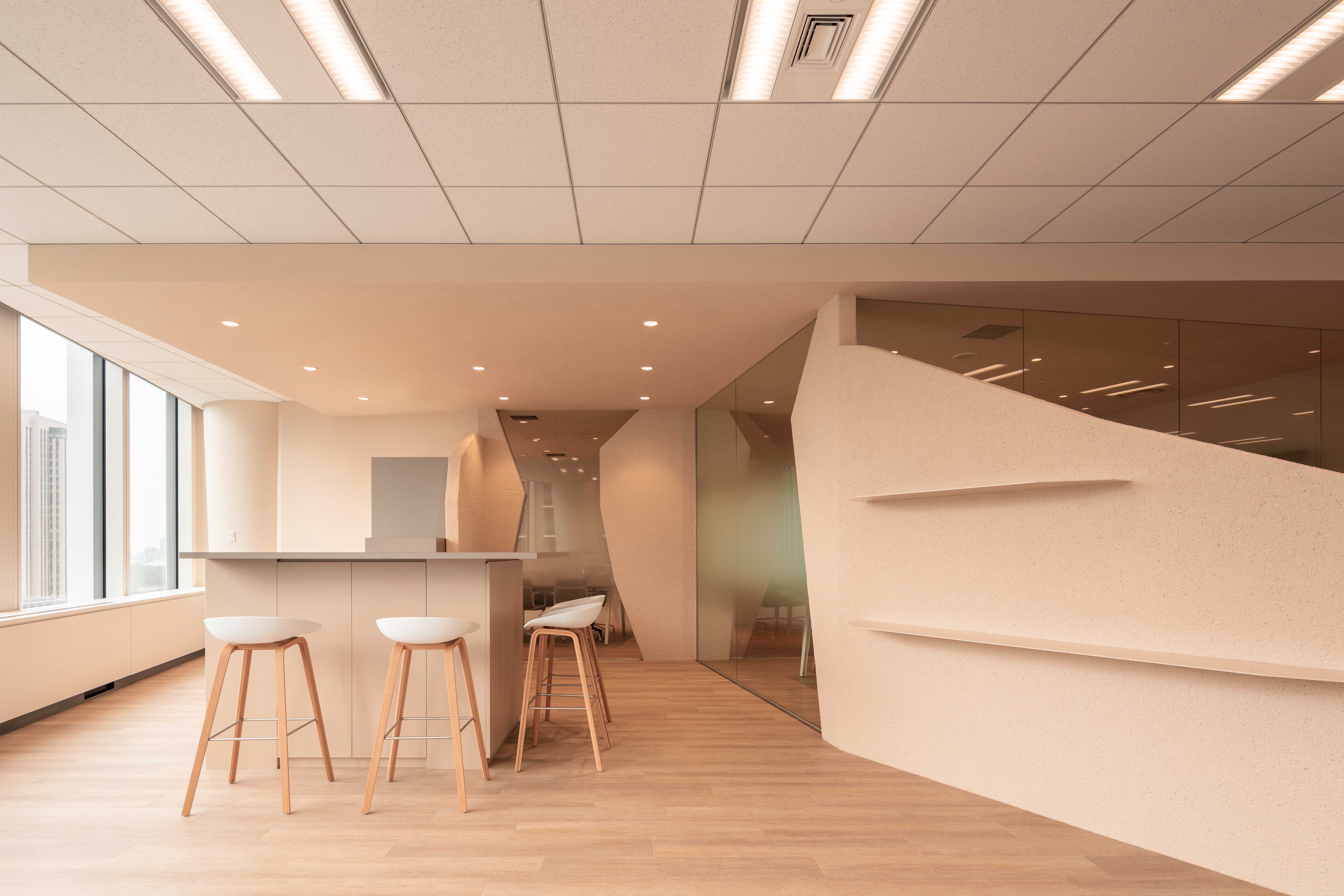 ---
Client : Hoegh Autoliners
---
Location : Tokyo, Japan
---
Program : Post-covid Office
---
Area : 265m2

---
Scope : Design - Project Management

---
Status : Built

---
Photos : Vincent Hecht
---
[Please click on the picture to enlarge]
---
This shipping company had seen our work and wanted something different for their offices as well. Their brief asked for a Futuristic Office Space, that reflected their Norwegian Maritime Heritage and that would still look fresh after 10 years.
We translated these requests around 4 conceptual keywords which would form the basis for the design.

1. Bright:
We suggested using a very light colour palette. Throughout the whole space, we installed a light wood oak floor. We used light cream coloured, thick, rough and smooth stucco finish for wall surfaces. Especially the rough stucco diffuses the daylight beautifully.

2. Views:
When we entered the new space for the first time we felt that the views of this relatively small office gave so much character to the space that we wanted to make sure that even after we constructed the programmatic needs such as meeting rooms, storage room, the space would not lose its openness that we felt so strongly during our initial visit.

3. No Walls:
Thus we tried to keep the space as open as possible. To keep this sense of openness we tried to avoid, wherever possible to have any fully enclosed room. Instead, we placed angled objects made of rough stucco in the space and filled these in with glass. These walls then spatially project that sheltering feeling of enclosure off it without really creating a room. By cutting parts of these walls off at the bottom or their top we played with the leftover spaces in between these open enclosures. By moving through the space, even very slightly the negative space between these walls would change depending on the angle viewed of this in-between open space. As such one never gets the feeling of being inside a room, as depending on the location within this space there are always views taking the viewer beyond that room.

4. Sail & Rock:
These enclosures form shapes that would maybe remind the users and visitors of rocks or sails on a shimmering sea. At least that is the impression we have tried to convey with those shapes.

Conclusion:
We believe that these four elements created an office that programmatically fulfilled the needs of a hybrid post-covid office in which staff could come to the office to be inspired. While in the office the movement through the space would be part of the inspiration that we aimed to transmit: that as there is no real enclosed space but that the various viewpoints and the diversity of these viewpoints together with the changing daylight throughout the day would make the space feel alive, ever-changing.



この運送会社は私たちに、今までとは違ったオフィスを期待していました。彼らは10 年後も新鮮に見える未来的なオフィススペースを求めていました。これらの要求を、デザインの基礎となる 4 つの概念的なキーワードにまとめてご提案しました。
1.明るさ:

非常に明るいカラー パレットを使用することをお勧めしました。空間全体に、明るいオーク材の床を設置しました。壁の表面には薄いクリーム色の厚い粗めのスタッコを仕上げとして使用しました。粗いスタッコは日光を美しく拡散します。
2. ビュー:

初めて新しいスペースに入ったとき、この比較的小さなオフィスからの眺めがこのスペースに非常に多くの特徴を与えていると感じました。この解放感を失わないように会議室、ストレージなどを配置しました。
3.壁がない:
私たちはスペースをできるだけオープンに保つように提案しました。この開放感を維持するために、可能な限り個室を持つことを避けようとしました。代わりに、粗いスタッコで作られた角度の付いたオブジェクトをスペースに配置し、ガラスで埋めました。これらの壁で仕切られた空間は

個室のように閉鎖的な空間ではなく、また全く解放された空間でもなく、半個室のような囲まれた集中できる空間になっています。

 これらの壁の一部を下または上から切り落とすことで、空間に遊びの要素を加えました。空間を移動することで、壁と壁の間のネガティブな空間は、この中間の空間を見る角度によってわずかに変化します。部屋の中にいるという感覚ではなく、空間内の場所が変わっても、その部屋の向こう側に見る景色があり、空間につながりを感じられます。

4.セイル&ロック:

これらの囲まれた空間は、使用者や訪問者にきらめく海の岩や帆を思い起こさせるような形をしています。私たちはこういった表現でこの空間を提案しました。
結論:これらの 4 つの要素により、コロナ後に変化する社会にも対応できる、社員のための新しいオフィスの形を提案することができました。オフィスにいる間、空間を移動することは、私たちが伝えようとしたイメージの一部です。つまり、実際に囲まれた空間は存在しないため、さまざまな視点があり、1 日を通して変化する日光と相まって、空間は常に変化し、生きているように感じます。







---
TY Apartment

AN APARTMENT REFURBISHMENT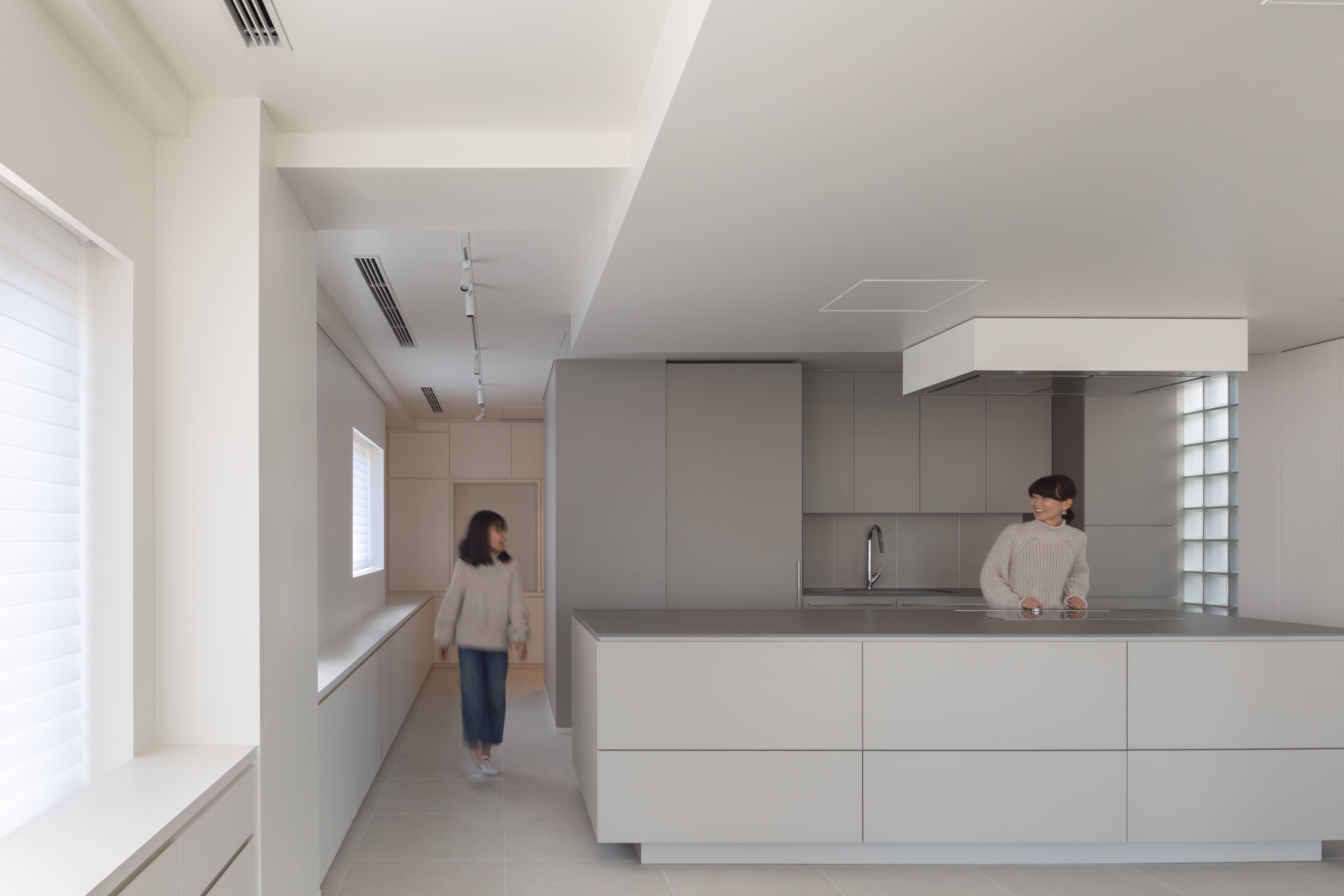 [Please click on the picture to enlarge]
---
Client : Private Client
---
Location : Suginami-ku, Tokyo
---
Program : Residence
---
Area : 230m2

---
Scope : Design, PM

---
Status : Built

---
Photos : Vincent Hecht
---
---
A renovation project of a 30-year-old apartment in the Western suburbs of Tokyo. The apartment had been unoccupied for over 10 years and the client requested a complete overhaul. The apartment complex consists of several relatively large units around 200m2.

We started the design by trying to open up the space as much as possible. We removed the corridor and opened the kitchen which previously awkwardly squeezed along the facade. As such a lot more daylight could enter the space. We opened up the entrance by cutting the wall towards the living room and also removed two more walls of what used to be the dining room and storage closet. This created a much larger open combined living-dining area. The custom-designed new kitchen island provides a low barrier while also connecting the kitchen to the living area. We added more height by removing the ceiling but lowered the ceiling above the kitchen dining area to integrate the new air conditioning ducting as well as to spatially accentuate the dining area.

A new, open passageway to the bedrooms was placed along the facade. Storage was added below the windows. More storage was added where the corridor turned behind the kitchen towards the bedrooms. The corridor thus creates also space on either side for the washing machine, dryer and a full-height kitchen pantry storage. An alcove was left within this storage unit for a large antique statue. Automatic blinds were integrated within the walls allowing us to add a layer of insulation. A new floor was installed and due to recently implemented, stricter regulations which imposed a raised acoustical underfloor to absorb contact noise as much as possible. The client opted for a large 600mm square Italian tile under which floor heating was placed. For the bedrooms, light oak floors were installed.

The previous master bathroom with a minuscule sauna was demolished and replaced with a custom-built shower room. Here handmade Italian tiles were installed on the floor and walls. Part of the sauna space was integrated into an enlarged walk-in closet. All furniture was custom designed and as much as possible integrated within the interior space.

東京西部郊外の築30年マンションのリノベーションプロジェクトです。 10年以上空き家だったマンションを、お客様から全面リフォームのご依頼がありました。集合住宅は、約200平米/戸の比較的大きなユニットで構成されています。
スペースをできるだけ開放することから設計を始めました。私たちは廊下を取り除き、以前はファサードに沿って閉鎖的だったキッチンをリビングダイニンング側に配置して開放的な空間としました。そうしたことにより多くの日光が空間に降り注ぎます。

 リビング側の壁を切り取り、玄関を開放し、ダイニングと物置だった壁をさらに2枚とりました。そうすることで、さらに開放的なリビングダイニングエリアになりました。カスタム発注したアイランドキッチンは、目線を遮らずより開放的な空間を作り出します。天井を取り除いて高さを増やしましたが、キッチン ダイニング エリアの上の天井を下げて、新しい空調ダクトを設置し、ダイニング エリアを空間的に強調しました。
ファサードに沿ってベッドルームへ通じる廊下を配置、窓下と寝室に向かう廊下に収納を設置しました。したがって、廊下の両側には、洗濯機、乾燥機、さらに高いキッチンパントリー収納用のスペースも作成されます。この収納ユニットには、大きなアンティークのアルコーブが残されていました。自動ブラインドが壁に組み込まれており、断熱層を追加することができました。  
マンション規約の遮音等級に沿って床下の音響を高くする必要がありました。床はクライアントのご希望で床暖房が配置された600mm角の大きなイタリア製タイルを選択し、ベッドルームには明るいオーク材の床が設置されました。
サウナを備えた以前のマスターバスルームは取り壊され、特注のシャワー ルームを設置しました。ここでは、手作りのイタリア製タイルが床と壁に取り付けられました。シャワールームを縮小し、一部をウォークインクローゼットに統合されました。すべての家具は室内空間に合うように特注で設計されています。

---
WoC-TOKYO
A BRIGHT AND TACTILE OFFICE
[Please click on the picture to enlarge]
Client : Confidential
---
Location : Tokyo
---
Program : Office, Meeting Rooms, Breakout Space, Private Offices
---
Area : 765 m2

---
Status : Completed
---
Photos : Vincent Hecht
---
This is a corporate interior project in a space that is not a typical office space. In a former gym the owner had inserted a second floor which was subdivided into long and narrow spaces. As the client took the whole floor we removed all these dividing walls and created one large connected, open space.

The design intend was to create a space that went beyond the purely functional requirements. Instead we focussed on the creation of a narrative in which the users of the space, the employees as well as visitors, would get a unique experience of this space. Removing the dividing walls allowed daylight to flow more uniform through the space. The larger space also provided for a wider variety of viewpoints. To keep this feeling of openness we went for a very clean look with light wood accents. We also want to bring in tactile materials to give us a textural, distinctive surface. Most of the walls are finished in a hardwearing, light beige stucco with either a smooth or a more rough finish.
We placed wood cement boards diagonal on walls as a dynamic, decorative element which also ensured a comfortable level of acoustics throughout the space. In the work area we installed a concrete colour vinyl tile on the floor, for the circulation and some enclosed rooms we used a light washed oak, enclosed rooms are carpeted.

At the entrance steps down lead to two glazed client meeting rooms, from there visitors turn right towards a larger meeting room that can accommodate up to twelve people. The glass wall of this meeting room can be opened up and the space in front can be used for presentations, seminars or town hall meetings. In the same space around the corner, up three steps, we placed a pantry kitchen under a louvered ceiling. Across this pantry is a nook where the walls, ceiling and floor are all in finished in a dark blue colour. Black and dark blue furniture is placed on a thick blue carpet, creating a soft and comfortable atmosphere where staff can have a coffee, have a quiet chat or do some work.

You can watch a One Minute Architecture video with a more detailed description of the project here



これは、典型的なオフィススペースではない空間における、企業インテリアリノベーションプロジェクトです。かつてはスポーツジムであった天井の高い空間に、ビルオーナーが2階を増床し、その2階は細長い小さいスペースに分割され使用されていました。施主がこの2階のスペース全体をリースすることとなったため、私たちはスペースを分割していた仕切り壁をすべて取り除き、1つの大きなオープンスペースとして設計することにしました。
設計の意図は、単に機能的なだけでないスペースを設計することでした。代わりに、空間を使用する社員、そしてビジターが、この空間を通してユニークな体験を得ることができるような物語を創ることに焦点を当てました。仕切り壁を取り除くことで、外光が空間をより均一的に流れるようになりました。より広いスペースはまた、より幅広い視覚的効果を持たらしました。この開放感を保つために、明るい木目調をアクセントとして用い、とてもすっきりとした印象に 仕上げました。また、手触りの違う素材を取り入れて、質感のある独特の表面を作ることにしました。ほとんどの壁は、滑らかな、または粗い仕上げの、耐久性のあるライトベージュの左官で仕上げられています。
ダイナミックな装飾的な要素として、壁に斜めに木毛セメント板を施し、またこの木毛セメント板は空間の快適な遮音性をもたらしています。執務エリアでは、床にコンクリート調のビニールタイルを設置し、廊下などの動線や、一部の部屋は、明るい色のオーク材を使用し、会議室部屋等はカーペットを施しました。
エントランスの階段を下りると、ガラス張りのクライアント用会議室が2部屋あり、その右手には、最大12人を収容できる大きな会議室があります。この大会議室のガラス間仕切りは開放可能で、大会議室の正面のスペースはプレゼンテーション、セミナー、タウンホールミーティングに使用できます。大会議室から3段のステップを上がった角にはルーバー付きの天井の下にパントリーキッチンを配置しました。このパントリーの向かいには、壁、天井、床がすべてダークブルーに仕上げられた一角があります。ブラックとダークブルーの家具が厚いブルーカーペットの上に設置され、スタッフがコーヒーを飲んだり、静かにチャットしたり、仕事をしたりできる、快適な雰囲気を作り出しています。
プロジェクトの詳細は、You Tubeチャンネル"OneMinuteArchitecture"
で動画を見ることができます。
---