RIV - TOKYO
HEAD OFFICE + BREAKOUT SPACE + MEETING ROOMS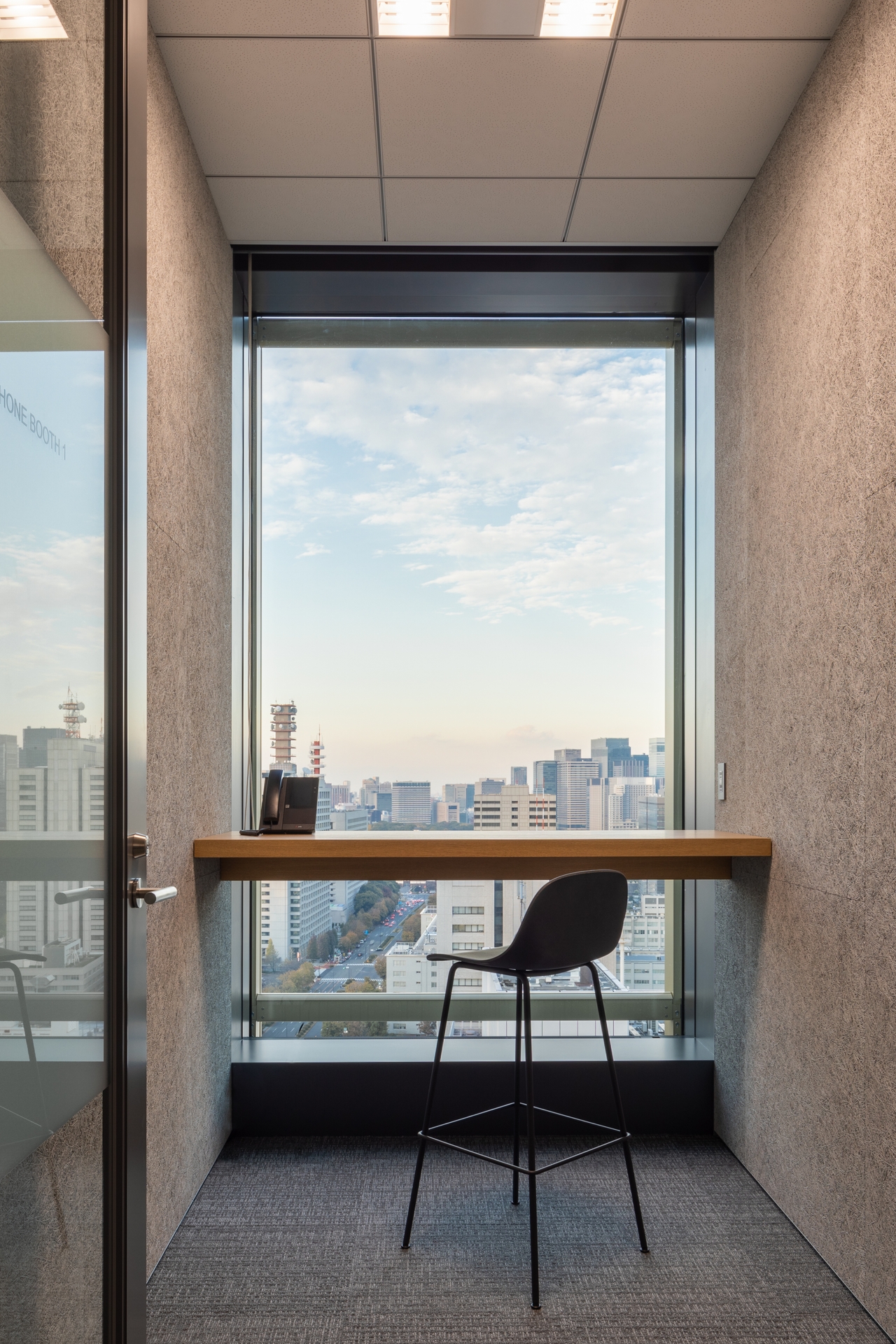 ---
Client : Confidential
---
Location : Toranomon, Minato-ku, Tokyo
---
Program : Head-Office + Breakout Space + Meeting Rooms
---
Area : 1,030 m2

---
Year : 2020
---
Status : Completed

---
Photos : Vincent Hetcht
We, as designers of workplace interiors, regularly try (but often fail) to go beyond the mere functional requirements of the office in our design. We ask ourselves (and our clients): what lies behind the number of desks and seats to accommodate the requested number of people? If a workplace is nothing more than a numbers game, what is the use of having an architect work on the project?

Opening our phones and scrolling through thousands of pictures of ever more interesting workplaces, we are led to believe that the short answer to that question might be to look for a new, more visual representation of the office. On Instagram we see workplaces that looks like a playground with sliders, hammocks, table tennis and a climbing wall. Then there are offices that look like film sets, or a camping site (with vintage campers for meeting rooms), or a ski slope (with gondolas as phone booths). These projects with their heavy emphasis on the visual could be seen as an attempt to disguise the act of work through design, an attempt to let the staff forget that they are at work. Will this extraordinary environment help them forget and make their task easier, more joyful?

Instead of a spectacularly visual or a purely functional workspace, we try to focus on the user experience of the space. We have called this approach WorkVitamins, in which the design is not a sole solution to the activities that come with work, but more as a vitamin providing regular, subtle support when needed. The narrative of an office that uses our WorkVitamins approach comes from the users feeling, experiencing, rather than merely seeing the spatial elements that have been used.

Like a warm cup of tea on a winter day, the work spaces should give their users comfort. Comfort in the workplace is becoming a form of luxury. This luxury used to be measured in the size of a desk, which was the projection and literal translation of the hierarchy of the firm's workforce in the design of the workplace. Today due to the fluidity of work itself, the ultimate luxury is in an authentic experience in and of the work space. Authenticity in space means identification with the whole of the space. Workvitamins suggests addressing the differentiation of tasks taking place within the workplace to support the staff in their ever changing needs.
---