Future proof school
INTERNATIONAL SCHOOL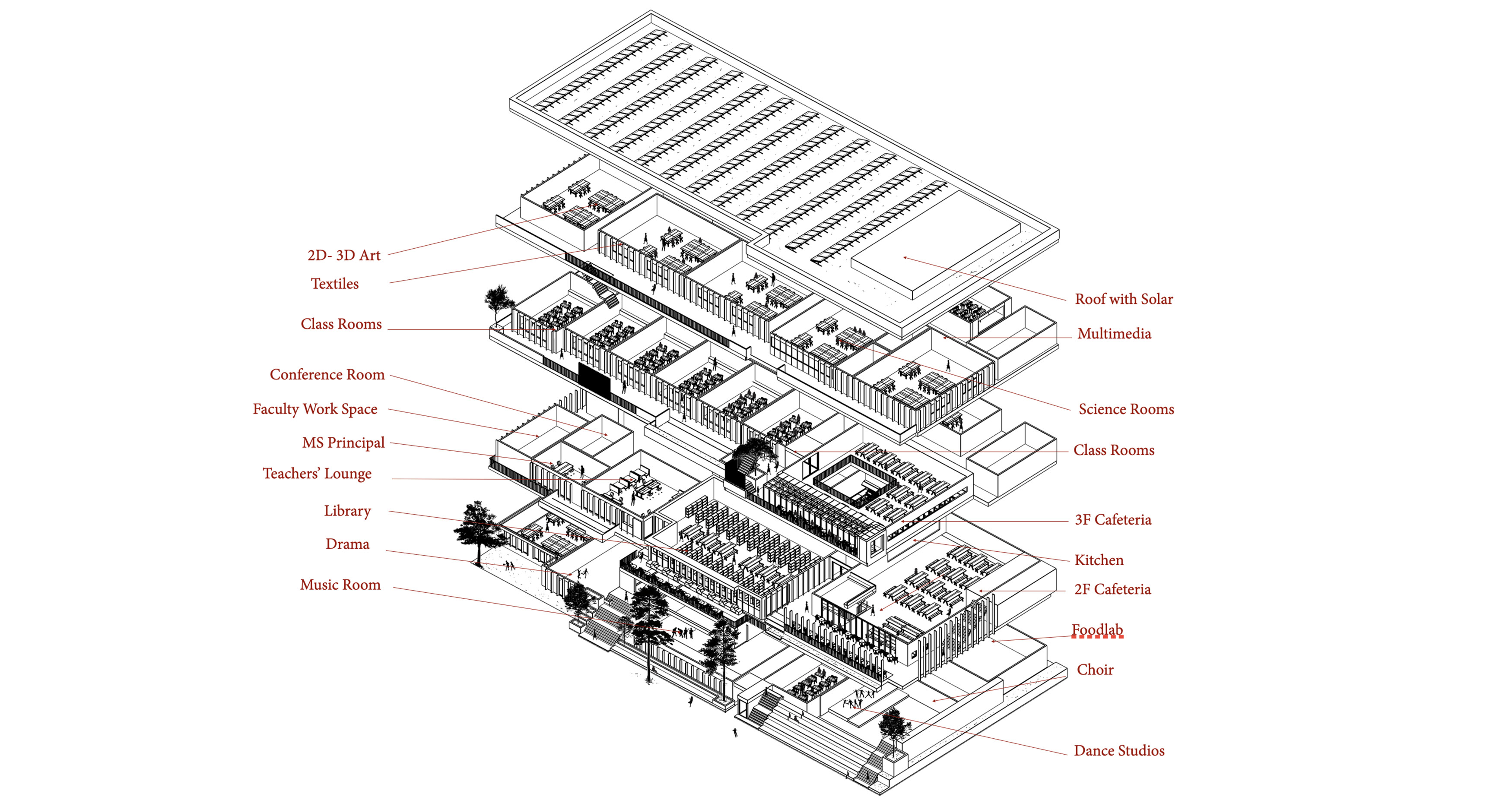 ---
Client : Invited Competition
---
Location : Hiroo, Tokyo
---
Program : School
---
Area : 6400m2

---
Scope : Design

---
Status : Competition

---
Empirical studies developed on the scope of educational research, show that school building conditions, such as spatial configurations, acoustics, heat, light and air quality have an impact on learning since they affect students and teachers performance and attitudes.

Design concept:
Our design layouts follows a spatial configuration based on a central core, i.e. a 'gravity centre' from which the different parts of the school are connected.
The central element of the layout is a space at the heart of the school where students can gather to learn, perform, eat and socialise.
Our suggested programme of this central core consists of the multi-purpose cafeteria split over two floors and the library which are all connected via an exterior terrace and various stairs.

Sustainability
The school of the future is a truly sustainable building. A building that creates its own energy, that collects rainwater and is flexible to allow easy adjustment to changing programmatic needs.
In our proposal we are providing both: A net-zero building that will be easy to build and operate with very low maintenance.
By carefully calculating overhangs we allow the deep winter sun to heat the building in the winter, while keeping direct sunlight out during the summer.
A green roof will reduce further heat-build   up during the summer. On this roof we are placing an array of photo voltaic panels and solar collectors that are used to heat water.
Rain water collectors can be used for irrigation of plants and trees. A filtration system will allow for rain water to be used for toilets. Each floor (including the roof) is a self-supporting "Platform" integrated with all mechanical and electrical services in the floors. The various rooms are inserted within the floors and can be adjusted - enlarged or made smaller within the flexible grid of the platforms.


建築教育研究の分野で開発された実証研究によると、空間構成、音響、熱、光、空気の質などの学校建築条件は、生徒や教師のパフォーマンスや態度に影響を与え、さらに学習にも影響を与えることが分かっています。

 私たちのデザインレイアウトは「重心」に基づいた空間構成になっており、そこから学校のさまざまな部分がつながっています。レイアウトの中心は、生徒たちが学び、演奏し、食事をし、交流するために集まることができる学校の中心的なスペースです。この中心核は、2つのフロアに分かれた多目的カフェテリアと図書館で構成され、外部テラスと様々な階段でつながっています。

 また、未来の学校のは持続可能な建物です。エネルギーを自給し、雨水を集め、変化するプログラムニーズに柔軟に対応できる建物です。ネット・ゼロ・ビルディングは、建設も運用も簡単で、メンテナンスも非常に少なくて済みます。日照時間を緻密に計算することで、寒い冬でも日差しで建物を暖め、夏は直射日光をシャットアウトします。私たちはこのプロジェクトでこの2つのことを提案しました。

屋根を緑化することで、夏場の熱の蓄積をさらに抑えることができます。この屋根の上に、太陽光発電パネルと太陽熱集熱器を設置し、お湯を沸かすることもできます。雨水貯留装置により、草木の灌漑に利用できます。またろ過装置により、雨水をトイレに使用することができます。各階(屋根を含む)は、機械・電気設備と一体化した自立型のプラットホームです。様々な部屋がフロアの中に挿入され、プラットフォームのフレキシブルなグリッドの中で拡大・縮小の調整が可能です。








---