GUANGMING
COMMUNITY CENTER + CAFETERIA + CONFERENCE + OFFICE + DINING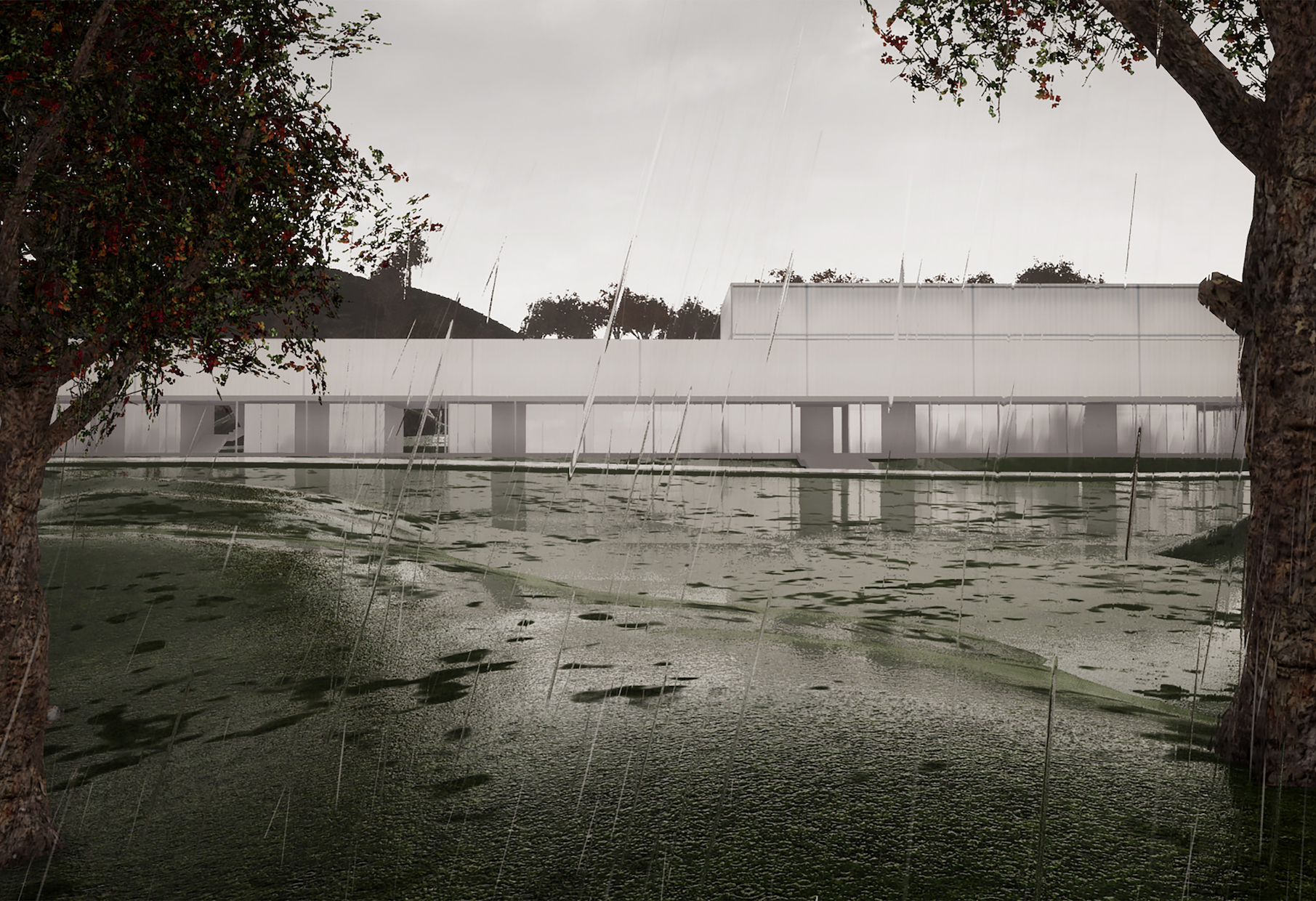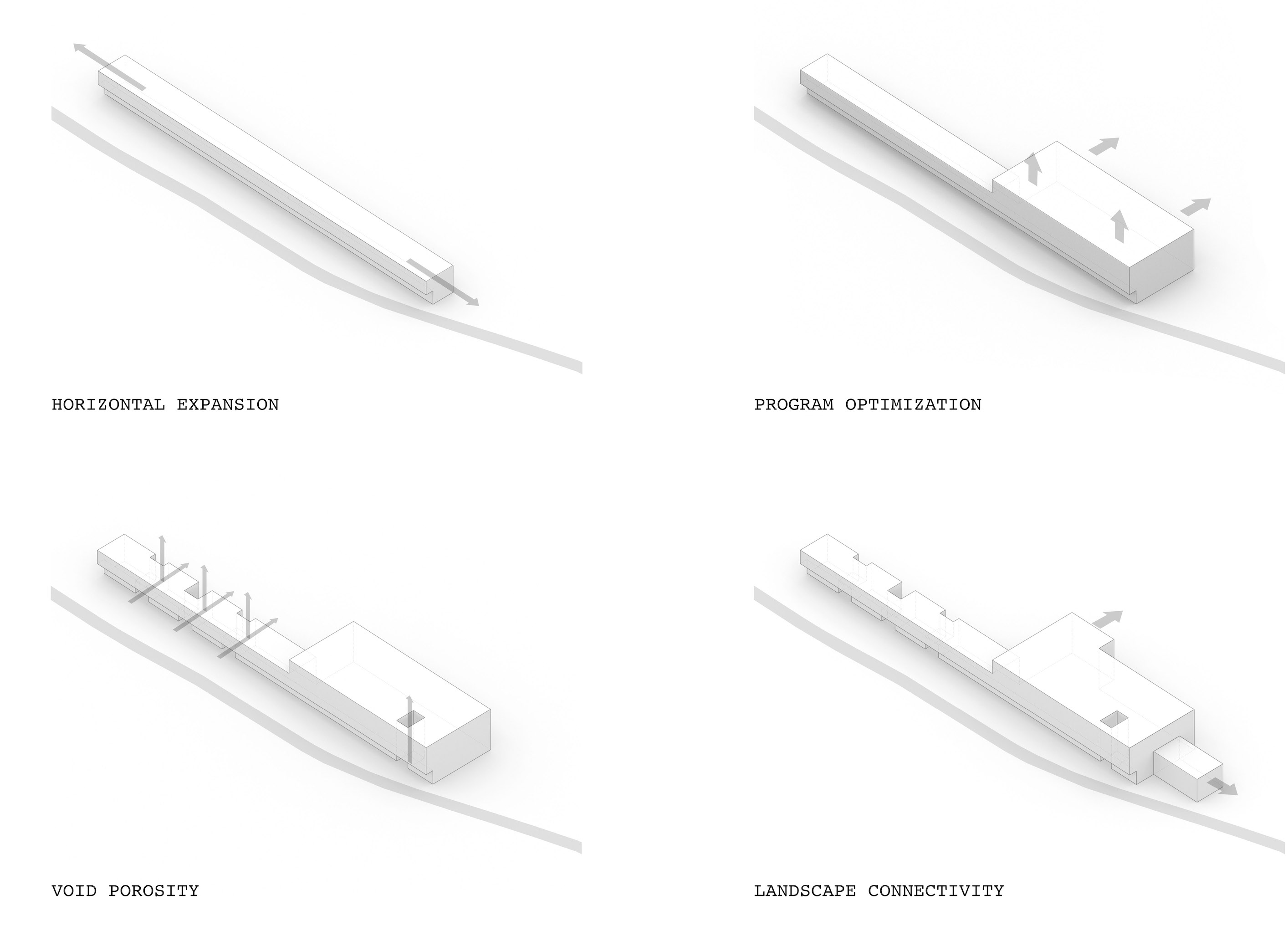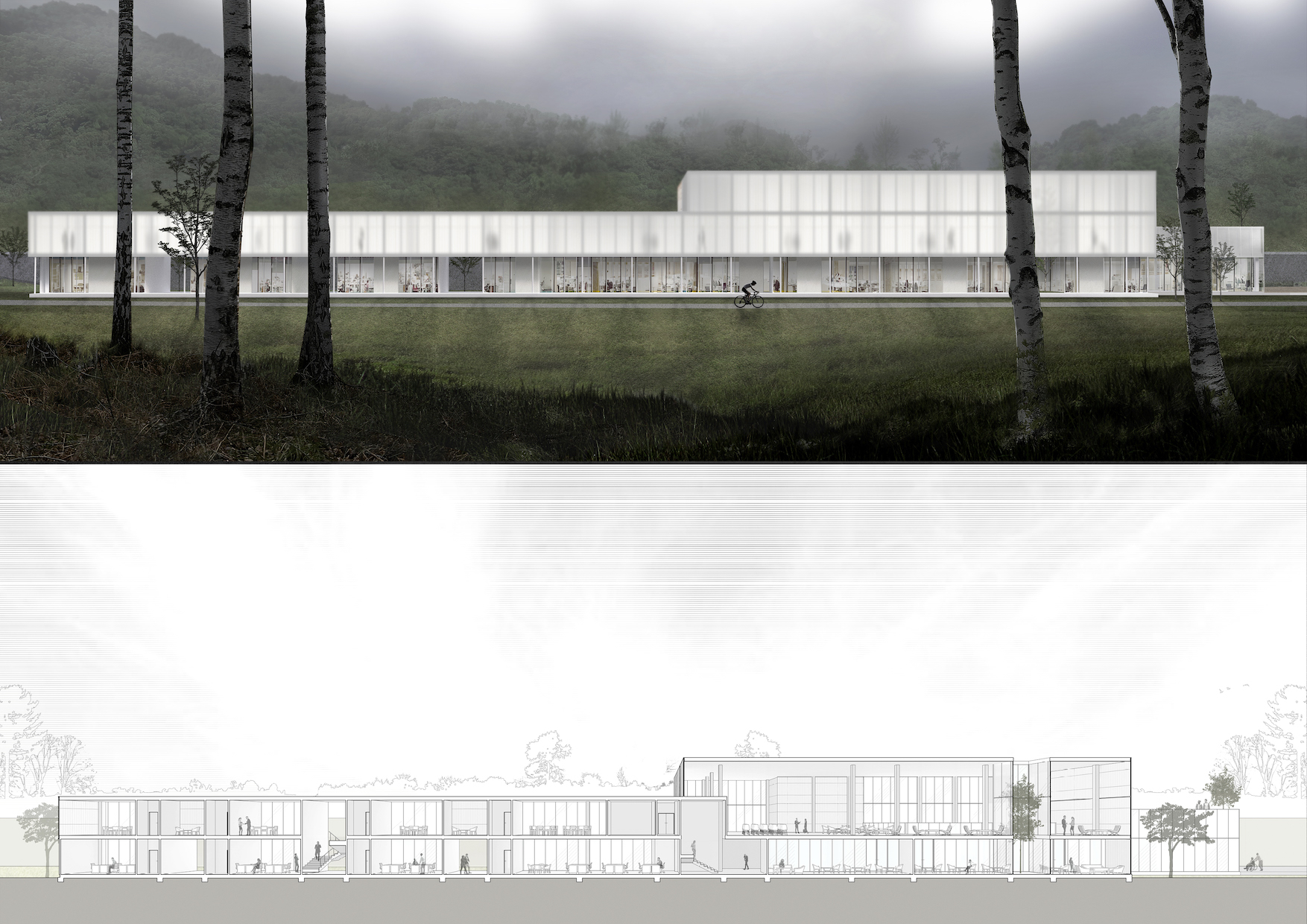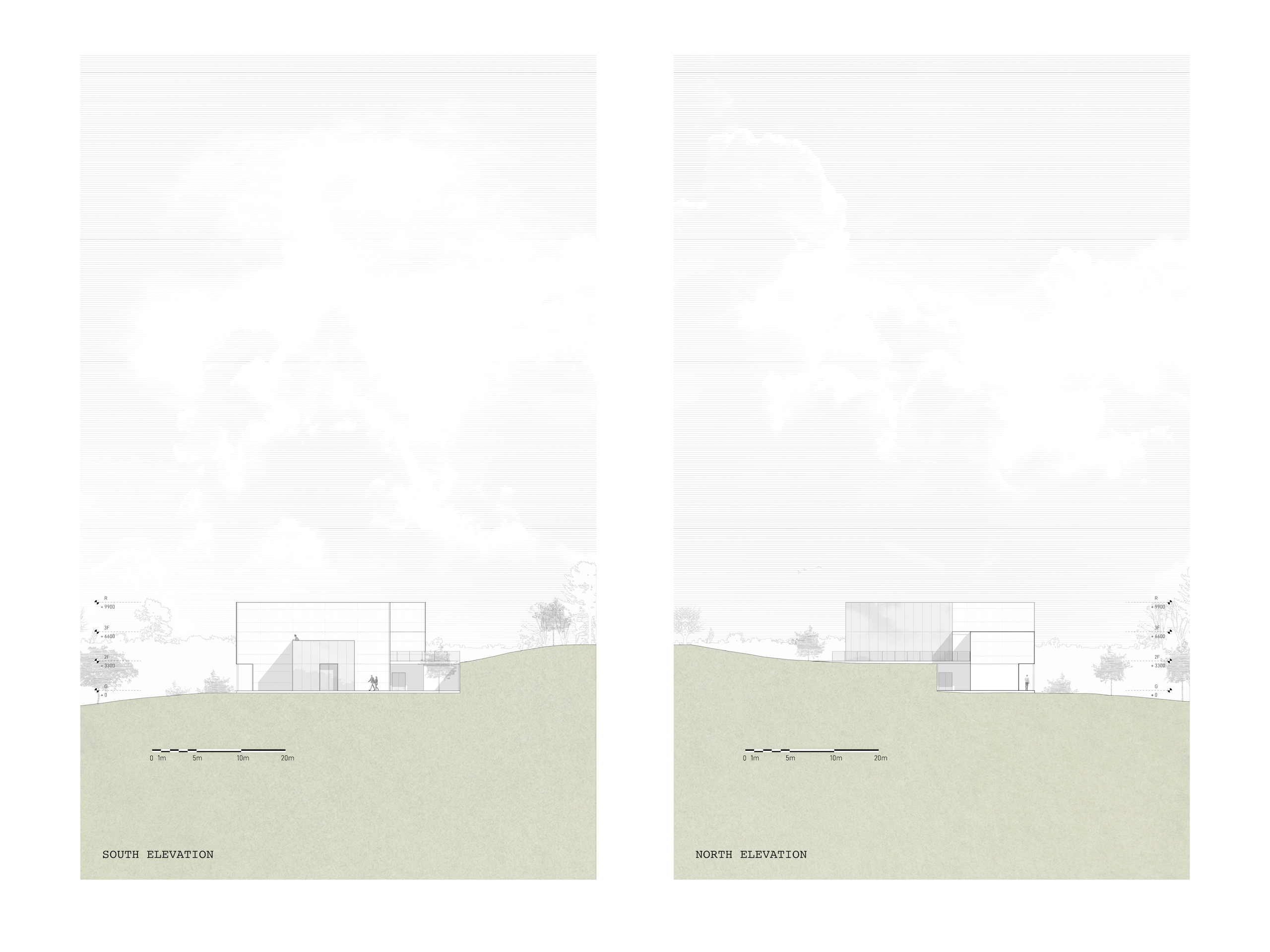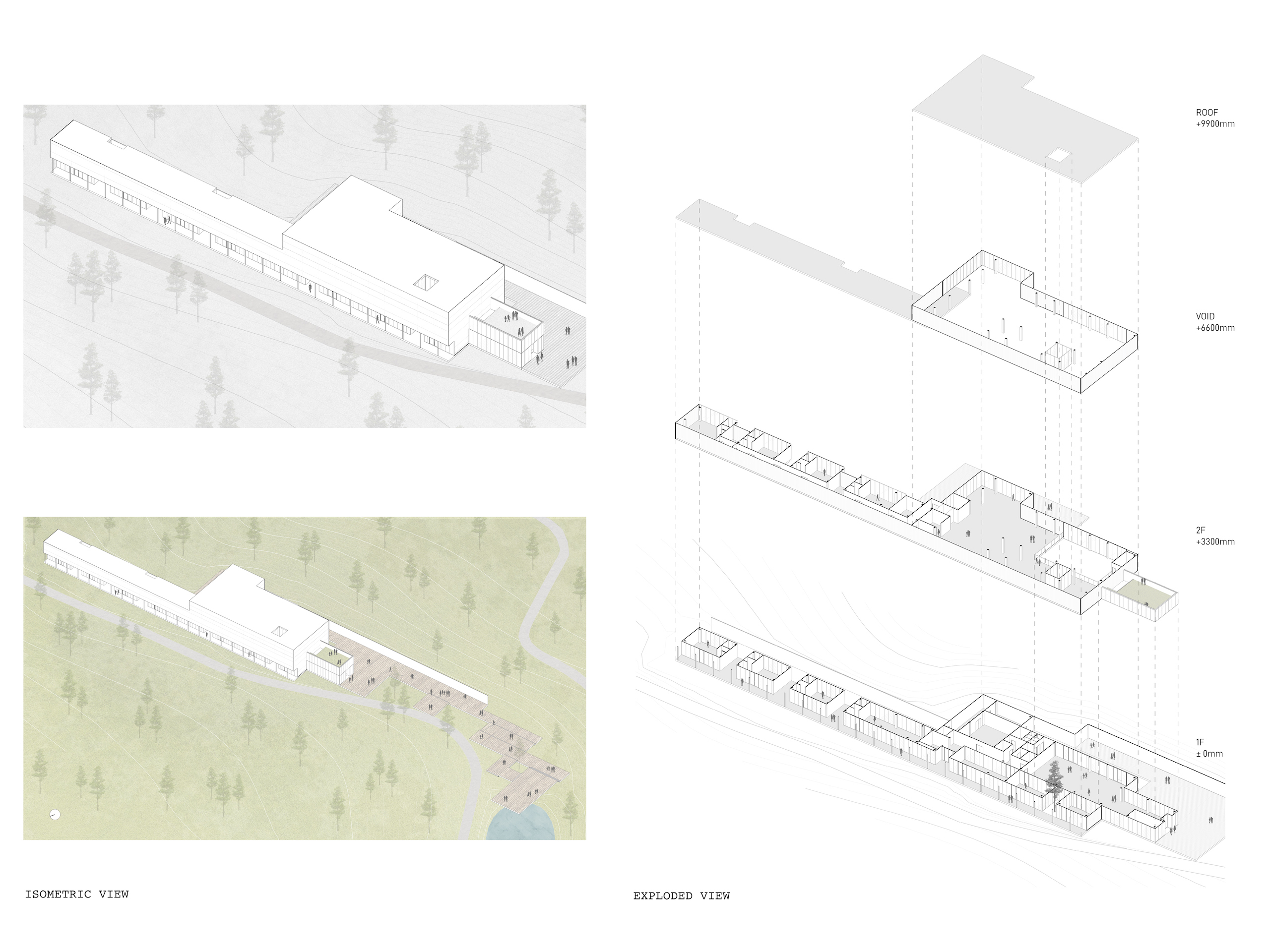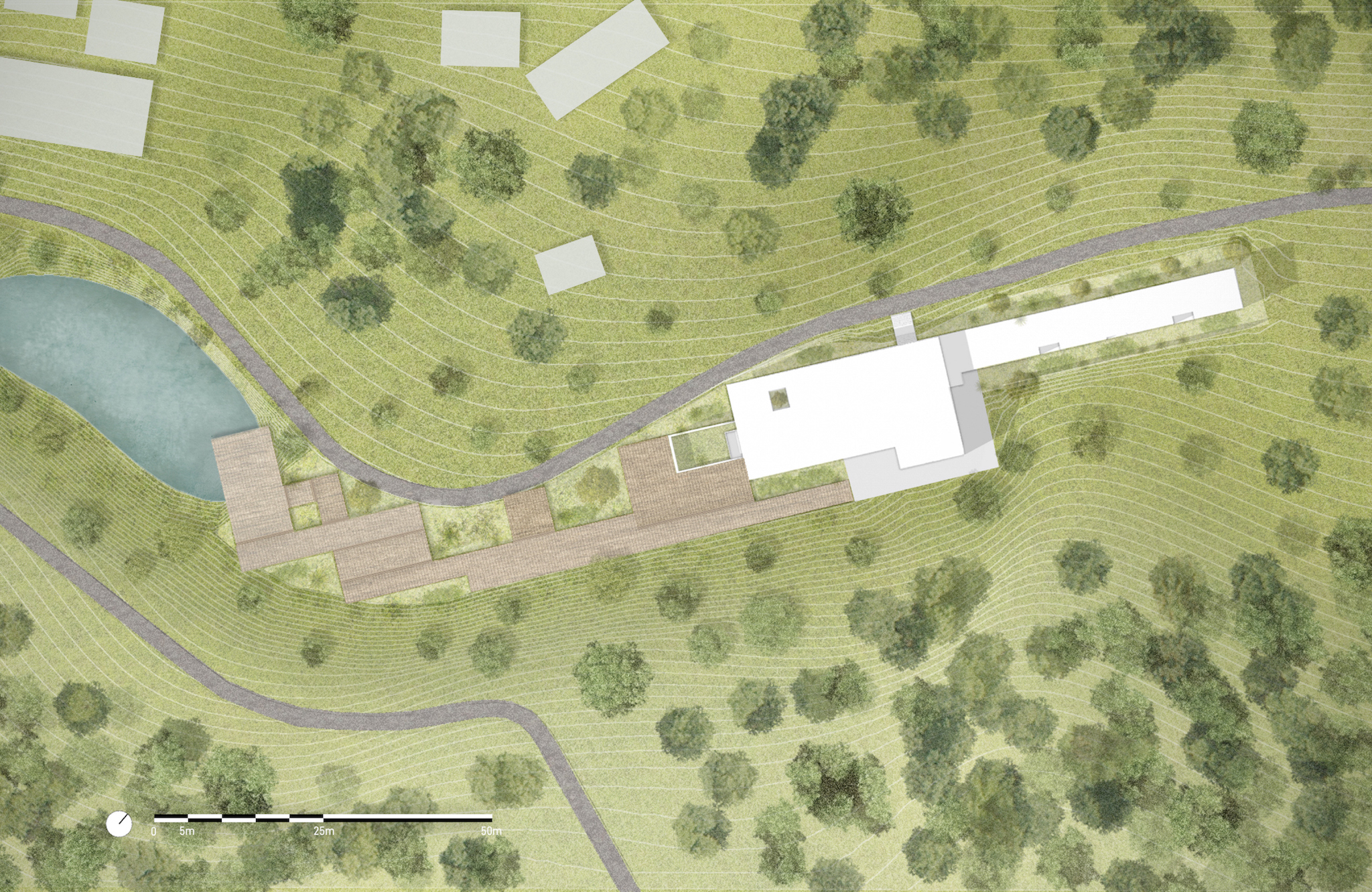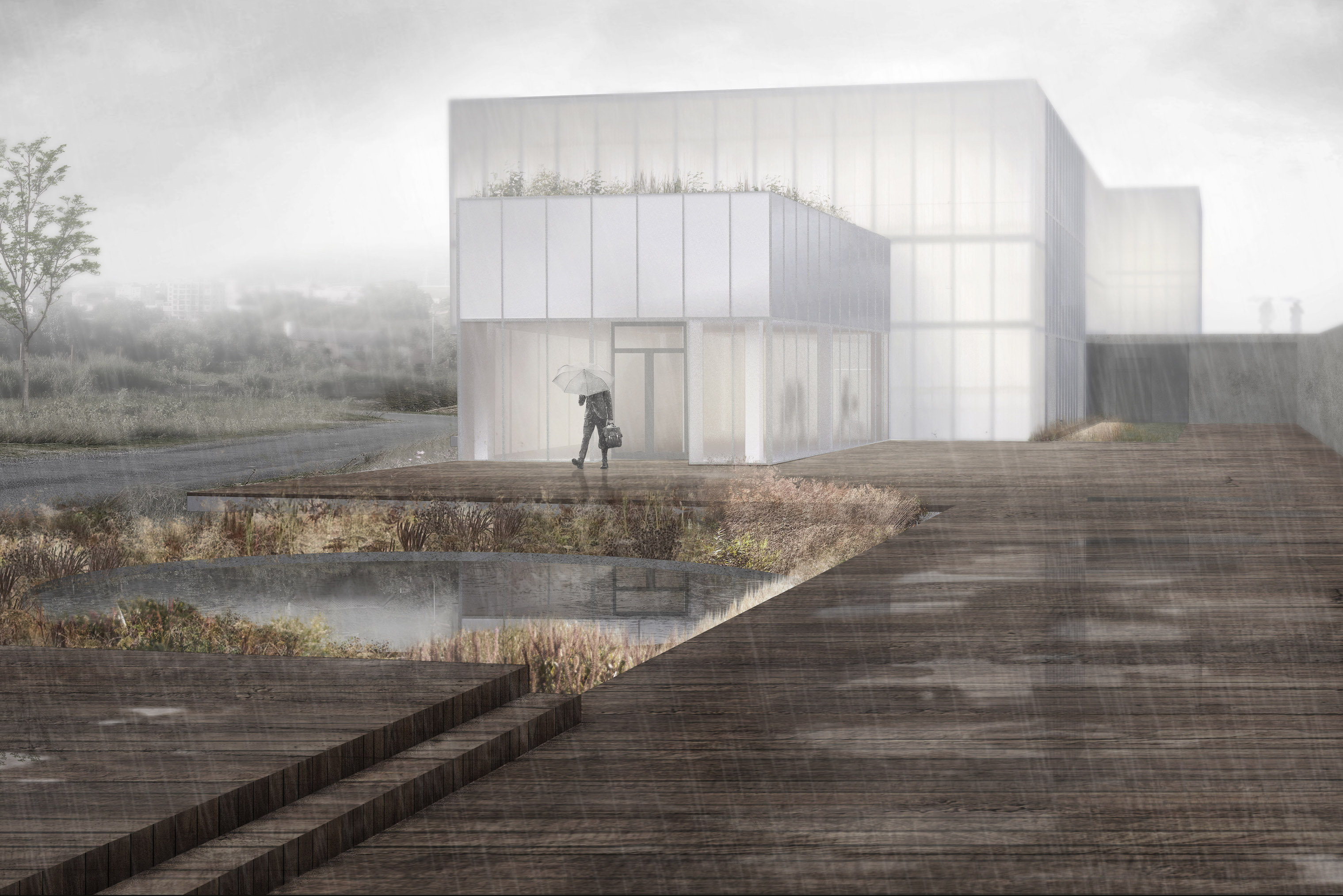 ---
Client : Confidential Chinese Developer
---
Location : Guangming, China
---
Program : Community Center, Cafeteria, Conference, Offices, Dining
---
Built Area : 2165 sqm
---
Site Area : 3900 sqm

---
Year : 2018
---
Status : On-going

---
Despite being situated about 26km from Shenzhen, Guangming has a surprisingly agrarian village-like character. This project is intended to kick-start the creation of a park designated for the education of both agriculture and ecology. The first building to be constructed within this park will be a 2165m2 multifunctional visitor's centre. The double-height structure contains a multi-use space, a couple of small enclosed rooms on the ground floor and a cafeteria on the second floor.


The main building is conceived as a 10 meter-tall polycarbonate box. The materiality of the polycarbonate panels allows for fast construction but also refers to the agricultural character of the greenhouses found throughout the park. The circulation is conceived as a covered corridor running parallel in front, along the whole of the structure. From this corridor one enters the main building, but walking further along there are a cluster of dining rooms placed over two floors. The corridor also takes the visitors to the decks in front of the building leading to a pond and the further onto other areas of the park.


---
ORANDA-JIMA HOUSE
AFTER-SCHOOL HOUSE + COMMUNITY CENTER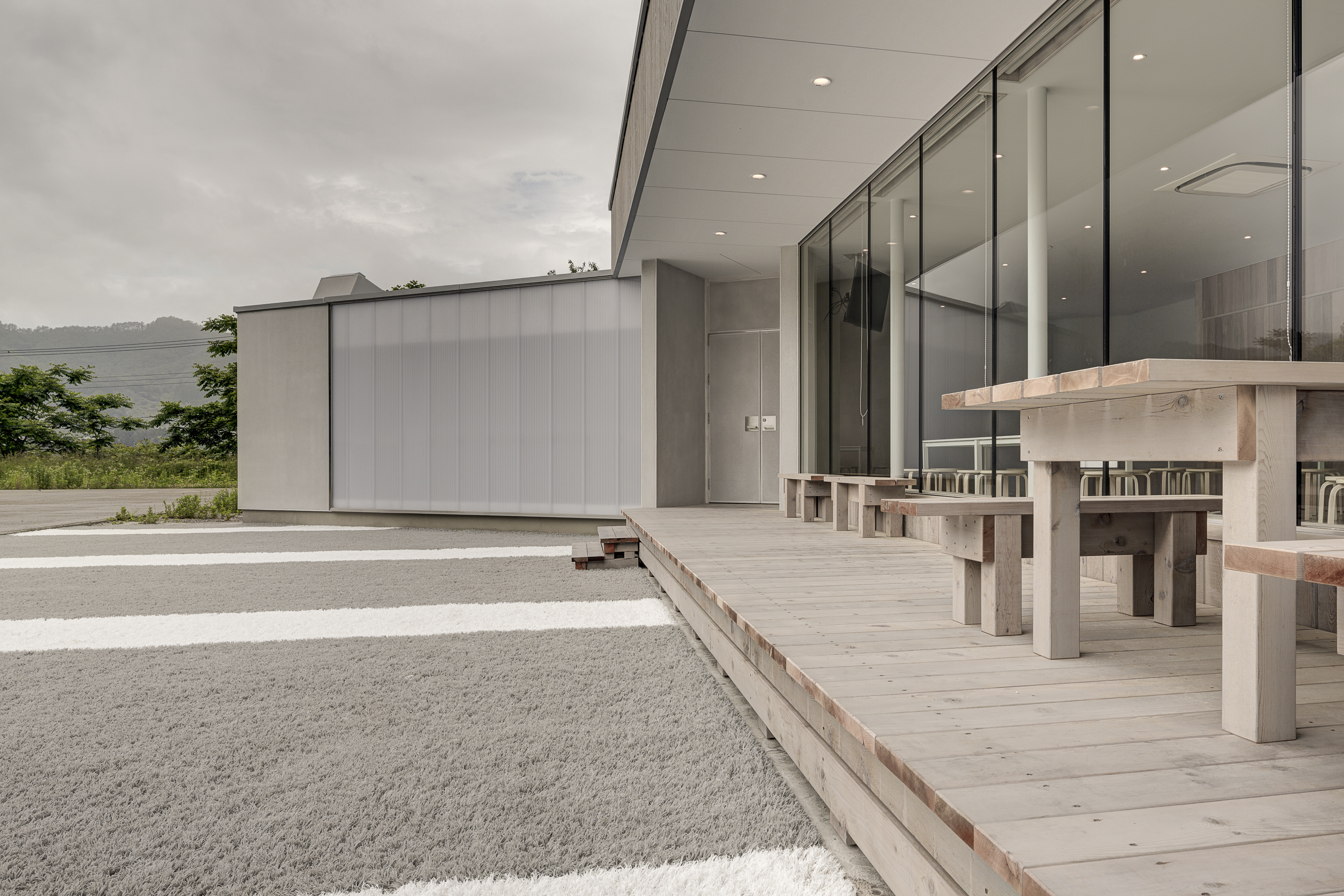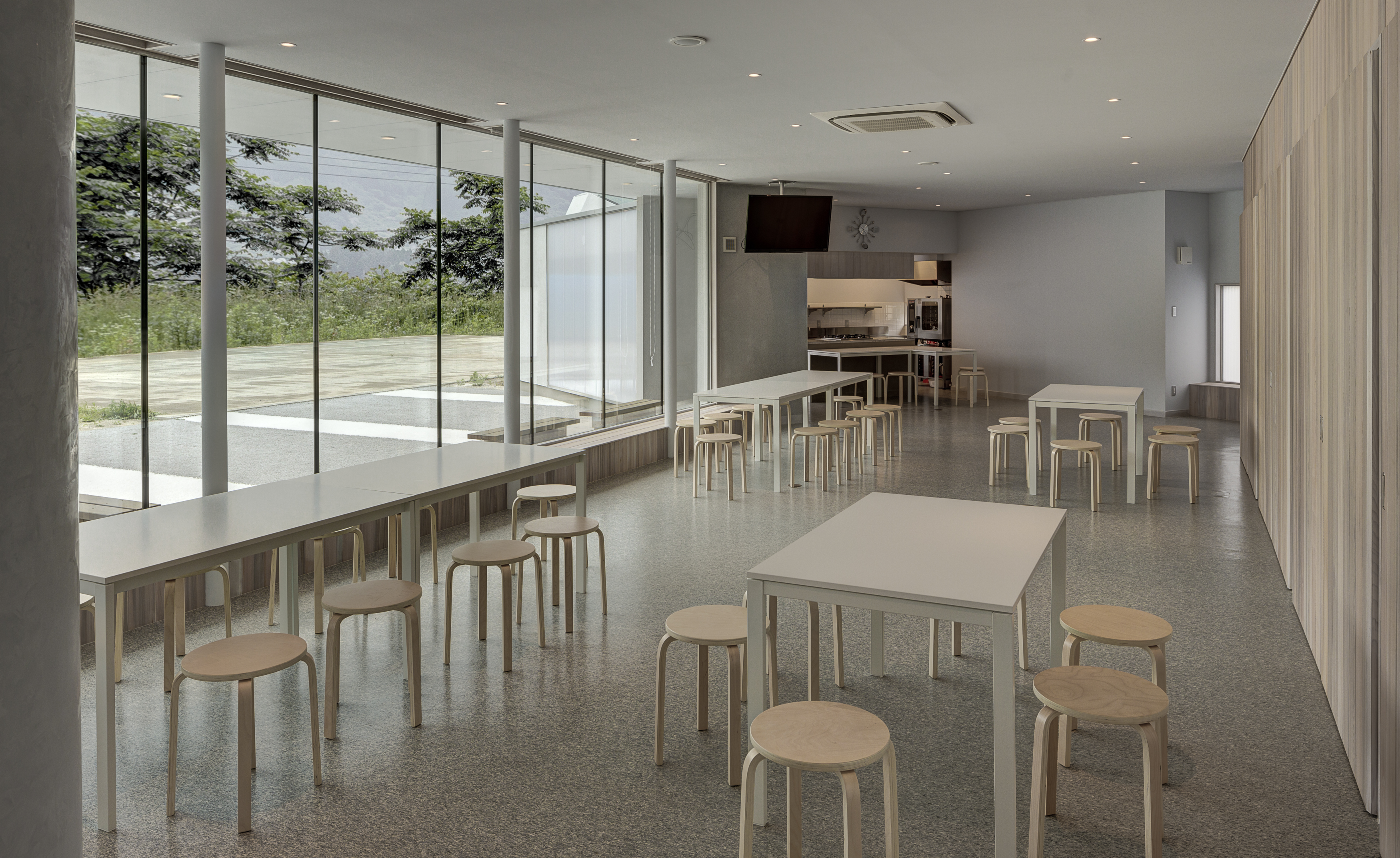 ---
Client : Oranda-Jima Foundation
---
Location : Yamada-machi, Japan
---
Program : After-School House, Community Center
---
Plot Area : 713 sqm
---
Built Area : 210 sqm
---
Year : 2011-14
---
Status : Completed
---
Photography : Josh Lieberman
---
Winner of "Silver A'Design Award 2015" in the category of Architecture, Building, and Structure Design
---
Yamada-machi is a town located on the central coastline of Iwate prefecture in the north of Japan.
After a devastating earthquake and tsunami hit the town on 11 March 2011, a foundation called Orandajima Foundation was established which offered to design and build a facility where children would have a place to play, heal and come together. Following extensive consultations with the local authorities, it was proposed in February 2012 to establish an after-school house and community centre.
The Foundation is named after the island where in 1643 a Dutch ship, called The 'Breskens' landed in the Bay of Yamada. This island was called 'Oranda-jima ('Holland Island') 350 years after the 'Breskens' stranded there.
The program asked for a flexible building of approximately 200 square meters to accommodate about 60 children.


Located on a hill, safe from future tsunami's, the wooden building stands as a simple, silent structure. We have designed building from the inside out aiming for an immersive experience by the young users. Through the use of contrast in scale, a variety in textural materials and other subtle detailing we believe that there is a certain depth in the space that goes beyond the visual. Great care has been given in the way natural light enters the interior spaces. On the west side of the house we have placed another polycarbonate window. Behind this window are trees and the setting sun will cast play-full shadows of these trees on this translucent panel, not unlike a Japanese rice paper screen.
Through this window, during certain periods of the year, the light of dusk will bathe the main room in hazy orange for a short period of time. The hope is that this harnessing of light will stir a contextual sensitivity within the users.

---
WoC-TOKYO
HEAD OFFICE + BREAKOUT MULTIPURPOSE SPACE
---
Client : Confidential
---
Location : Tokyo
---
Program : Office, Meeting Rooms, Breakout Space, Private Offices
---
Area : 765 m2

---
Year : 2020
---
Status : Completed
---
Photos : Vincent Hecht
---
This is a corporate interior project in a space that is not a typical office space. In a former gym the owner had inserted a second floor which was subdivided into long and narrow spaces. As the client took the whole floor we removed all these dividing walls and created one large connected, open space.

The design intend was to create a space that went beyond the purely functional requirements. Instead we focussed on the creation of a narrative in which the users of the space, the employees as well as visitors, would get a unique experience of this space. Removing the dividing walls allowed daylight to flow more uniform through the space. The larger space also provided for a wider variety of viewpoints. To keep this feeling of openness we went for a very clean look with light wood accents. We also want to bring in tactile materials to give us a textural, distinctive surface. Most of the walls are finished in a hardwearing, light beige stucco with either a smooth or a more rough finish.


We placed wood cement boards diagonal on walls as a dynamic, decorative element which also ensured a comfortable level of acoustics throughout the space. In the work area we installed a concrete colour vinyl tile on the floor, for the circulation and some enclosed rooms we used a light washed oak, enclosed rooms are carpeted.
At the entrance steps down lead to two glazed client meeting rooms, from there visitors turn right towards a larger meeting room that can accommodate up to twelve people. The glass wall of this meeting room can be opened up and the space in front can be used for presentations, seminars or town hall meetings. In the same space around the corner, up three steps, we placed a pantry kitchen under a louvered ceiling. Across this pantry is a nook where the walls, ceiling and floor are all in finished in a dark blue colour. Black and dark blue furniture is placed on a thick blue carpet, creating a soft and comfortable atmosphere where staff can have a coffee, have a quiet chat or do some work.
You can watch a One Minute Architecture video with a more detailed description of the project
here
.
---
UBER - OSAKA
GREENLIGHT HUB + REGIONAL OFFICE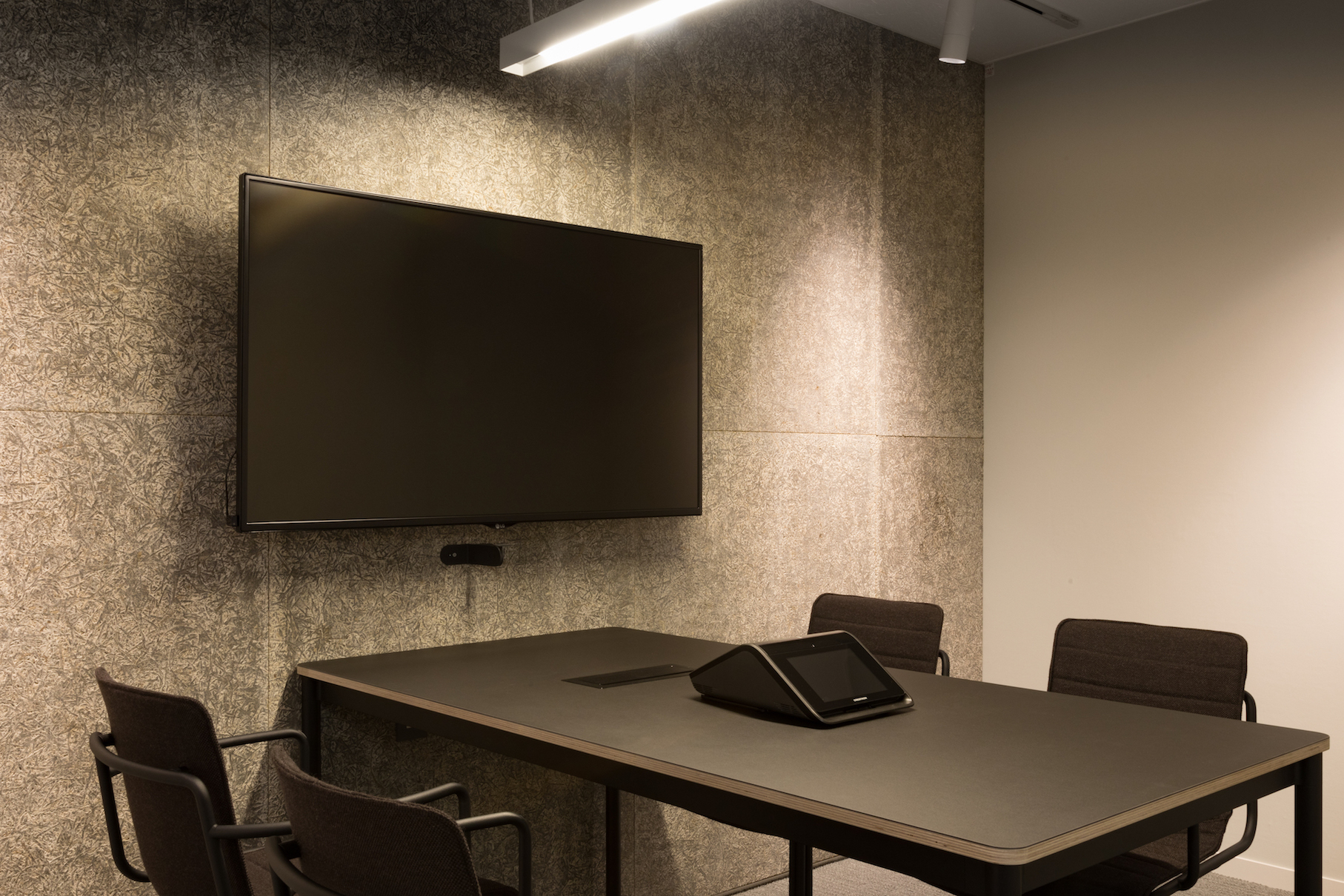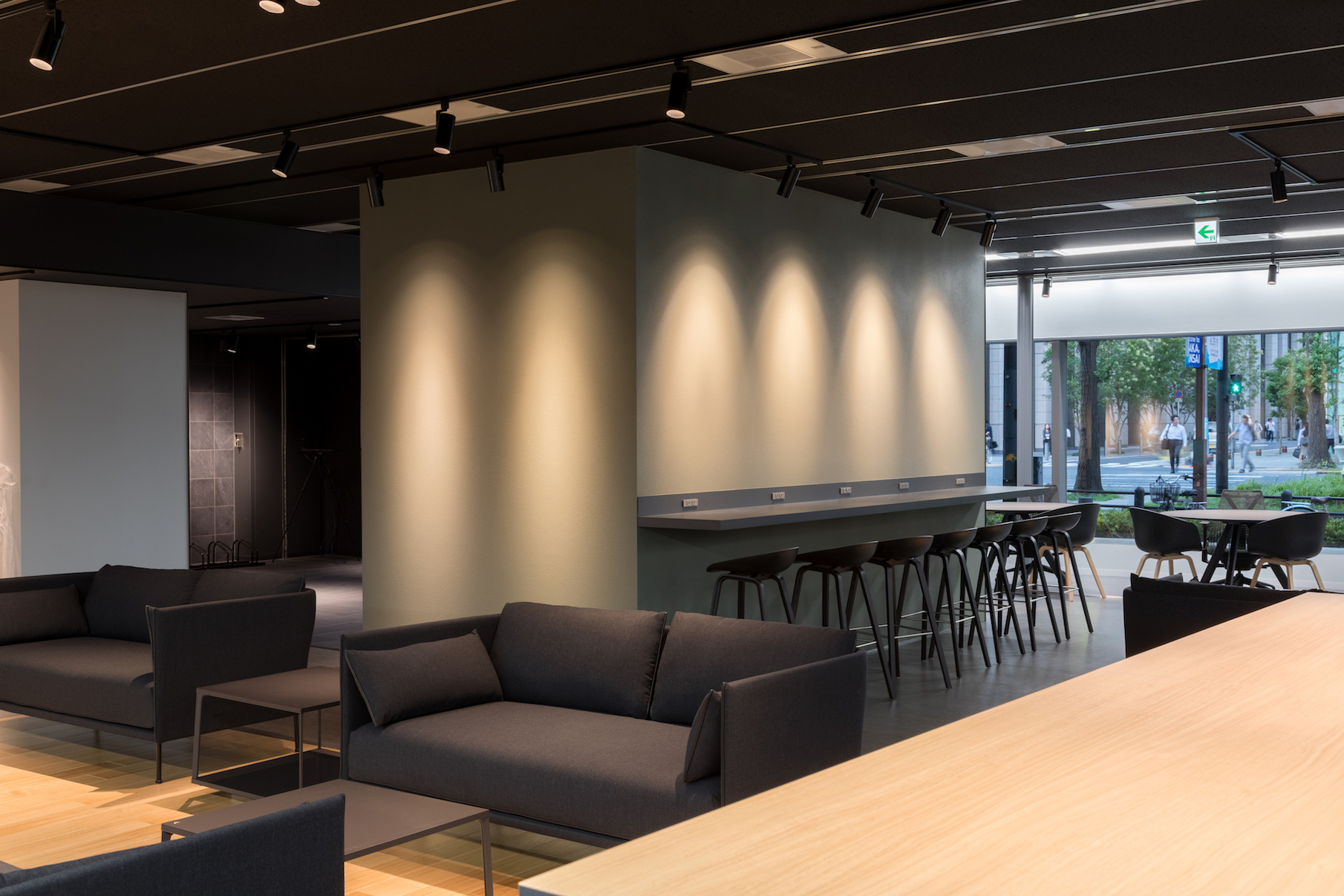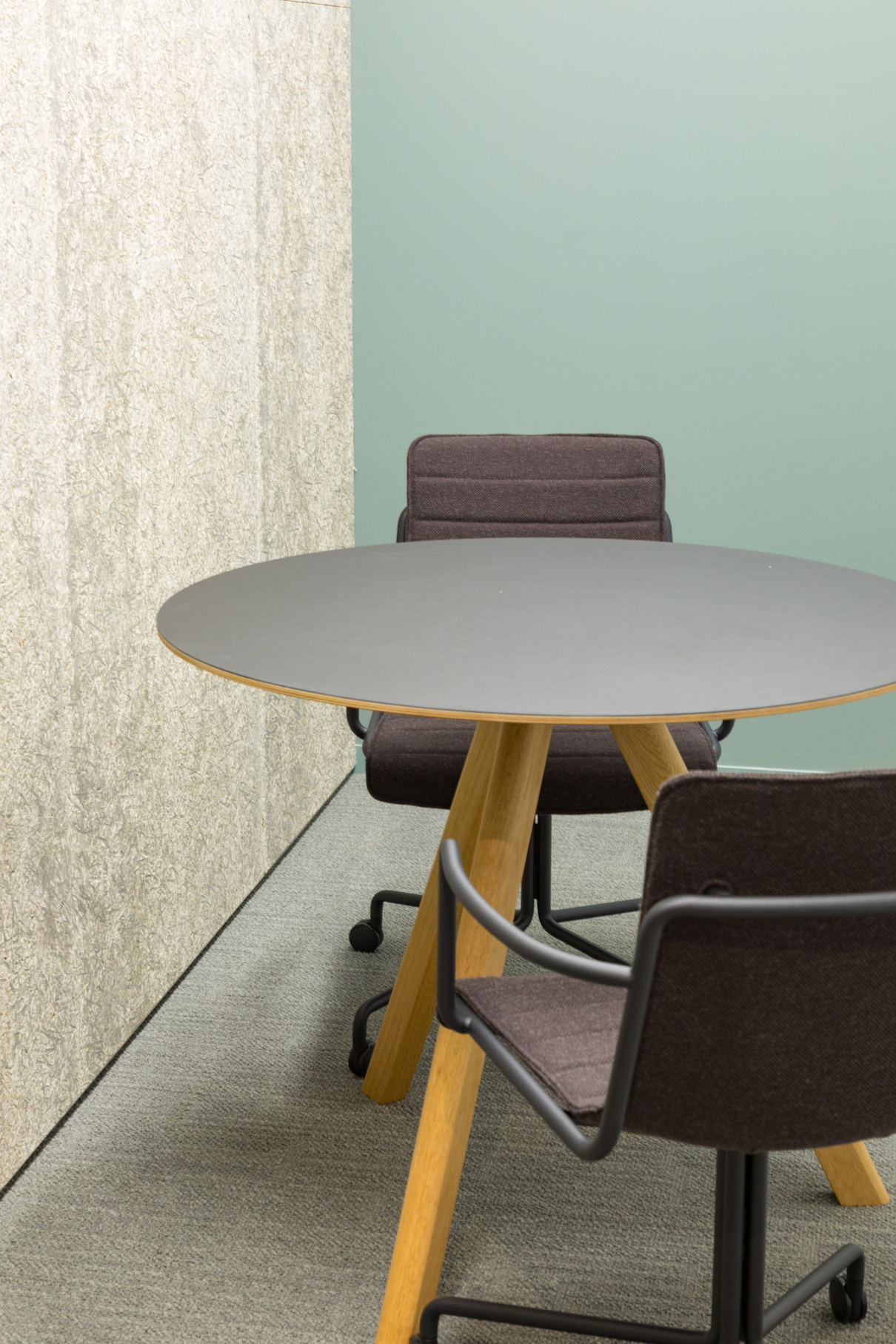 ---
Client : UBER Japan
---
Location : Chuo-ku, Osaka, Japan
---
Program : Greenlight Hub + Regional Office
---
Area : 460 sqm

---
Year : 2018-19
---
Status : Completed

---
Photos : Vincent Hecht

---
Split over two floors, the ground floor contains a reception, waiting areas, sign-up, and training spaces. The basement floor is accessible via an internal staircase where a break-out space, toilets, and workstations are located. Most of the enclosed spaces have a double skin of expanded wire mesh panels attached to a partition with frosted glass. The combination of glass and mesh offer privacy while maintaining a visual connection with the main space. The wire mesh panels have also been used as a decorative feature in the basement to clad a back-lit wall.


Wood cement boards are clad on many of the walls to improve the enclosed rooms as well as open space acoustics. Due to heavy foot traffic within the venue, a durable grey Marmoleum is used as flooring. A variety of Japanese stuccoes that are normally used as a spray-on exterior cladding of wooden houses have been used to bring accent texture and colors on a few walls and columns. Careful lighting accentuates these different textures of the space.
---
MYSTERIOUS - OBJECT
CORPORATE OFFICE
---
Client : Confidential Consulting Firm
---
Location : Tokyo, Japan
---
Program : Corporate Office
---
Area : 2600 sqm

---
Year : 2012
---
Status : Completed

---
Photos : Josh Lieberman
---
An international consulting company asked us to design their new offices. We designed meeting rooms with corridor-facing windows made of switchable glass, providing privacy when needed. A staircase connecting two floors is clad in clear and matte reflective glass panels that bend in the center. The shape these bent panels created was — for better or worse — called the "Mysterious Object."


This became the focal point of the project, and the Mysterious Object began to represent the work performed by our client's consultants: a transfer function of information within a BlackBox. On a not-so-mysterious level, the transfer function of the staircase became literal, as it connects both office floors, but also serves as a way to extend the space and add two meeting rooms at the staircase's base. The landing of the staircase guides staff to a multi-purpose break room with a variety of seating.
---